About Lionel Lim
With over 10 years of experience speaking on different platforms, Lionel Lim is regarded as one of Singapore's most prolific professional speaker and business entrepreneur. He is also the trusted authority to empower you to package, promote and present your brand professionally.
Put him in front of an audience of any size and he will ensure there is never a dull moment. It is often said that…
"Lionel's biggest gifts are his twin abilities to connect with people from different cultures and simplify difficult concepts for his audience to internalise them quickly."
A proud alumnus from the National University of Singapore with an amazing feat of being placed on the Dean's List (top 5% of cohort) continuously for five out of six semesters, Lionel's life has not always been smooth sailing.
Despite his academic success and stellar grades, Lionel has had to struggle with health, weight and self-esteem issues in life. Being sickly, acne-prone and underweight, Lionel's biggest demon was his own inferiority complex. He didn't know how to interact well with others as he just felt awkward.
Tragedy struck when his father was diagnosed with colon cancer. Watching his father grow weaker day after day was a rude awakening.
Following the death of his father in 2006, Lionel reluctantly became head of the family. It was also during this time when he sunk into depression and became perpetually sick. There were many times he questioned the purpose of his life. He was like an aimless soul living in this harsh and cruel world. And the one thing he did best was to retreat into his own abode like a hermit.
From Depressed Soul To 11-Time Award-Winning Business Entrepreneur
Just like how the stories of modern day heroes go, the protagonist must first be put to the test to suffer the slings and arrows before he claims his rightful place in the universe.
Similarly in Lionel's case.
The heartening part till today remains the fact that Lionel chose to rewrite his life story and was reborn again like the phoenix from the ashes.
Fast forward the years, the once sickly and stick-thin face in the crowd is now a successful entrepreneur and lifestyle personality. He has become the role model for others to emulate. Gone are the days of his lack of self-esteem and low confidence.
From being a face in the crowd, Lionel is now the face the crowd faces. And befitting of his impact and influence, he is the mentor behind many successful names in the local business scene, helping to catapult both their brand and income level to astronomical heights. All his students have since gone on to become successful business owners, professional speakers, personal trainers and image consultants in their own rights.
An industry leader with a string of successful businesses, Lionel has received numerous awards from the business world, IT world, beauty industry, university alma mater and national defence for his achievements. His accolade highlights include: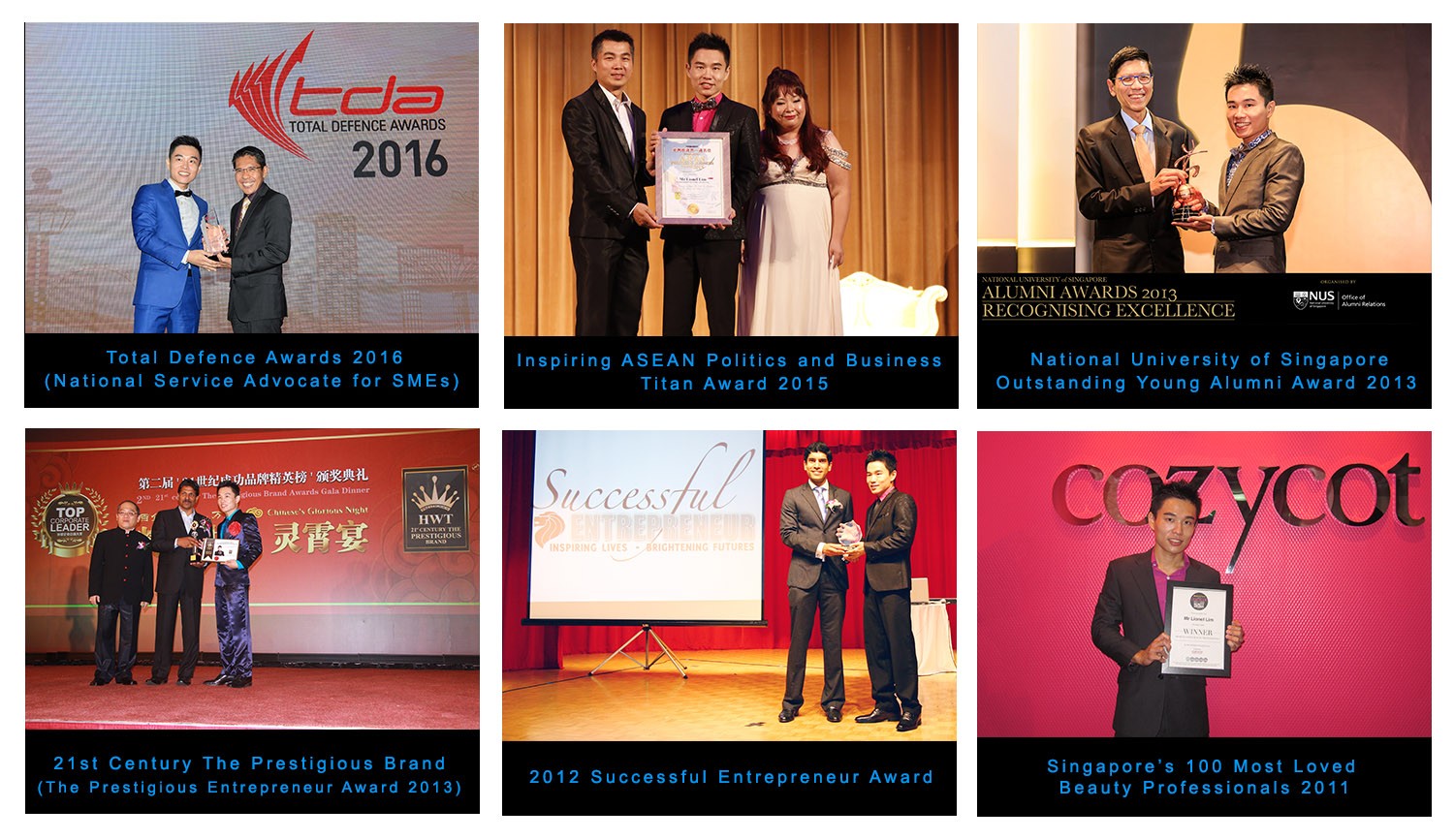 – Singapore Website Awards – The Public's Favourite Website Award (Commercial Category) 2018
– Singapore Website Awards – Site of the Month (November 2018)
– Total Defence – Awards 2016 (National Service Advocate for SMEs)
– Asia Notable Male Icon 2015
– Inspiring ASEAN Politics & Business Titan Award 2015
– National University of Singapore Outstanding Young Alumni Award 2013
– 21st Century The Prestigious Entrepreneur Award 2013
– Asia Pacific Brands Award 2013 – Coup D' Established Category
– Southeast Asia Business Excellence Award 2013
– Successful Entrepreneur Award 2012
– Singapore's 100 Most Loved Beauty Professionals 2011
Featured On More Than 28 Local & International Media Platforms
Lionel's work and interviews have appeared extensively on national television, newspaper articles, radio shows and magazine publications, including: Mediacorp TV, The Straits Times, The Sunday Times, Lianhe Wanbao, Shin Min Daily News, Radio 938 Live, 8 Days Magazine, Cozycot Magazine, August Woman Magazine, Simply Her Magazine and SDN Duet Magazine.
He has also been featured in international media such as on BBC World TV News, Fox News, CBS News, ABC News, NBC News, The Daily Herald, Fitness Blitz, the United Kingdom's International Association of Style Coaches newsletter, Malaysian magazine "Top Corporate Leader" and Partner Philippines.
His Professional Speaking & Training Career
Famously known for his expertise and edutainment, he prides himself in having the utmost regard for his clients' well-being. His personable and professional character has allowed him to build and maintain solid relationships, which explains how he has accumulated a prominent client portfolio. He's the go-to expert that multi-national corporations, local businesses, government organisations and educational institutions have turned to when they need a charismatic speaker.
His illustrious list of clients include industry names such as HSBC Bank, OCBC Bank, StanChart Bank, SingTel, Orchard Central Mall, Drew & Napier LLC, Daikin Airconditioning Singapore, IBM Singapore, Pfizer Singapore, Toyota Motor Asia Pacific, Jebsen & Jessen (SEA), Lenovo Singapore, Pfizer Singapore, Keppel FELS, Prudential, Manulife, Orange Tee, Carrier Singapore, SembCorp Industries, Far East Hospitality, Ce La Vi, Ministry of Defence, Ministry of Education, Health Promotion Board, People's Association, CPF Board, National University of Singapore, Nanyang Technological University, Singapore Institute of Technology, Singapore Polytechnic, Ngee Ann Polytechnic, Singapore Police Force,  Pioneer Junior College and Hwa Chong Institution.
His signature programmes on grooming, branding, resume writing and interview skills; and health and fitness have been well-received as Lionel has a good pulse on the latest developments in each field.
His unique ability to take difficult concepts and simplify them, coupled with his diverse teaching methods which range from games, videos, 'hot seats', role plays, sharing sessions and hands-on practice have been constantly commended upon.
His dynamic personality, humor, contagious energy, and love for business have made him one of the most sought-after speakers. His unique HR background and charcoal to diamond story has endeared him with all ages from lecturing at universities and polytechnic campuses to the most demanding executive boardrooms.
His Personal Brand Transcends All Boundaries
Riding high on both brand and reputation, Lionel has also been invited to sit on the judging panels of both local and overseas beauty pageants such as Ammine International Jewelry Princess & Queen 2015 Pageant, Miss Singapore Islandia 2014 Pageant, Mrs Singapore 2013 Pageant, Amazing Lifestyles Pageant 2012, Mrs Singapore 2012 Pageant, Classic Mrs Malaysia International World 2011 and Miss & Ms Amazing Plus Size Beauty Pageant 2010.
Always keen to break new ground, Lionel became the first in Singapore to launch a fitness calendar in December 2011. That very same year, he was also invited to be the official fitness trainer for the Miss Singapore World 2011 finalists.
In Jan 2012, Lionel launched Luxe Body Culture – his own line of bodycare products.
In Dec 2012, Lionel released his book "Branded For Success" sharing his entrepreneurship journey and real-life business strategies. It is available in all major bookshops.
Lionel was appointed Entrepreneur Ambassador of Global Entrepreneurship Week Singapore 2014. He was also invited to judge the NUS Entrepreneurship Bootcamp Pitching Competition 2015.
Lionel has been an alumni mentor at National University of Singapore's Faculty of Arts and Social Sciences (FASS) since 2014; a Nanyang Technological University (NTU) Mentor under the NTU Mentorship Community since 2018 and an industry mentor at Ngee Ann Polytechnic's School of Business & Accountacy since 2018.
Success & Happiness Are Definitely Within Reach
Through his love for his craft and dedication to his clients, he positively impacts and influences them to more confidence, success and happiness in life. More importantly, his ascent to the top owes itself to the same real-life strategies, systems and processes he now teaches thousands.
Lionel holds a Bachelor of Arts (Honours) from the National University of Singapore, a Diploma in Style Coaching from the Style Coaching Institute (UK), and the Master Trainer and Sports Nutritionist dual certifications from American Muscle and Fitness Personal Training Institute (USA). He is also a published author.
FOLLOW LIONEL LIM ON SOCIAL MEDIA
Get In Touch Today
Please provide your contact details and we will get in touch with you within 2 working days or less.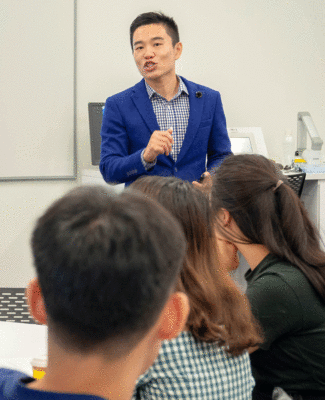 BOOST YOUR BRAND APPEAL BY SUBSCRIBING TO THE LATEST UPDATES FROM LIONEL LIM!
Receive timely updates on valuable insights, strategies and techniques to build your brand, boost confidence and generate greater success in life. When Lionel offers his personal guidance and advice FREE, you will be missing out if you do not subscribe!