Your Survival Guide To Tackling The EAE Polytechnic Interviews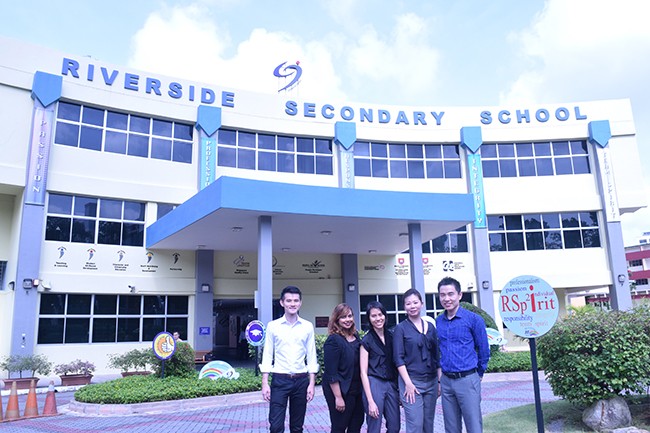 My training team has finished two interview skills workshops this month for the graduating students of Riverside Secondary and Woodlands Secondary. It is interesting that the focus of these workshops is geared towards helping the students to tackle the EAE interview with greater confidence.
The Early Admissions Exercise (EAE) allows students to secure a place in the local polytechnics before they sit for their GCE 'O' Level examinations. Best of all, students with sterling achievements in art, sports, leadership or community service will also be considered.
Now almost every respectable college has an interview of some sorts after you have cleared the preliminary round of selections. For institutes of higher learning like the local polytechnics, the EAE interview round too is now mandatory.
In my survival blog post today, let's discuss the 4 ways you should tackle the EAE polytechnic interviews so as to greatly increase your chances of being accepted.
#1: Prepare Early
Admission applications for polytechnics in the following year start in June/July. If you are interested in a certain course, do some research well in advance. Even if you are uncertain of which course to take, read up on a few possible ones that you are particularly keen on. Asking around for advice or reading future market trends for "hot" industries too can be useful.
Or you can always refer to the Polytechnic Graduate Employment Survey which is released in January each year. This survey, jointly conducted by the five polytechnics, compiles the overall employment rates of the polytechnic graduates who graduated the year before.
Interestingly, some information you can glean from this survey includes the average pay a poly graduate from a particular diploma course can earn, the average time needed to land a job etc. And if I compare the results of this year with the previous years, I will be able to tell whether salaries have increased, remained stagnant or have regressed.
For example, the Graduate Employment Survey 2016 revealed that poly graduates from the Health Sciences category earned the highest median gross monthly salary compared to all other courses. Coming in second highest were graduates from the Built Environment, Engineering and Maritime category. This proved to be a continuation of the trend since 2014.
This is no big secret but preparing early will give you ample time to come up with a portfolio to show your immense interest. And I think you probably know this – anything impressive needs time to curate and crystallise into fruition. That's why movie blockbusters take a longer time to produce as compared to smaller budget movies. And a different diploma will require a different type of portfolio that you need to prepare. For example, if you are aiming to study new media, film or videography, then a video portfolio is mandatory.
Make every course option which you enter onto the online EAE portal count. Do not think you will always get your first choice. Strategise and be mindful of all the course options you have chosen – knowing you have considered each one carefully and nothing was a result of you putting that course down just to fill up the number of slots.
#2: Do Your Research
Well, let's just say you are interested in aerospace electronics. Which polytechnic should you apply to? After all, there are three polytechnics offering this course – namely Nanyang Polytechnic, Singapore Polytechnic and Temasek Polytechnic.
Similarly, if you are keen to do a diploma in nursing, you can choose between Ngee Ann Polytechnic or Nanyang Polytechnic.
This is where you really need to do your research. Besides the difference in course content, you should consider other factors such as school culture, teaching style, facilities etc. The list is endless! But the more you know, the better you are at impressing the interviewers.
If you have done your research and checked out the course syllabus, you will realise in addition to the core syllabus, the nursing curriculum at Ngee Ann Polytechnic allows you to take one Life Science module during each year of study – which means you have that edge when applying for a nursing position. You can also take elective modules in Year 3 such as research, oncology, immunology, clinical trials.
Remember, you don't want to enter a course blindly and then end up regretting or wanting to switch course or poly later.
#3: Prepare For Interview Questions
Besides the usual "tell me about yourself" type of questions, there are some interview questions specific for EAE.
They include, but are not limited to the following:-
• Why did you choose this course? 
• What do you think (the course you applied for) is all about? 
• What are you future career aspirations (in this industry)?
• If you are rejected for this course, what other courses would you be considering? 
• (Assuming) Your XX subject score isn't ideal, are you sure you can cope?  
Let's put it this way – if you are not prepared at all for the 'standard' interview questions, then you might as well just stay at home as you are depriving others who are more worthy of a place. It also demonstrates your laziness or as what Singlish terms as your 'bo chap' attitude.
#4: Bring Along Your Personal Portfolio
Portfolios used to be the in-trend. But in recent years, they have escalated to become the must-haves.
Bring along your personal portfolio to the EAE interview.
Your personal portfolio acts as your ammunition or concrete evidence that you have been there, done that.
In my professional opinion, you should include the following in your personal portfolio:
• Academic Results (including transcripts)
• Leadership Roles (what did you do?)
• Testimonials or Letters of Recommendations (from mentors, teachers or former employers)
• Volunteer Experience (eg. old folks home, children's home, first aider at marathon?)
• Interesting Class Projects / CCA Activities  
• Internal School Certificates / Awards 
• External Competition Certificates / Awards 
• Evidence of Work Attachments
• Involvement in Advanced Elective Modules (conducted by the local polytechnics)?
Curate your personal portfolio such that it reinforces you as the choice candidate in the poly course you are applying for. Maintain relevancy at all times.
And when answering questions during the EAE interview, remember to flip to the page of the portfolio to highlight and support what you just said. This definitely beats passing the interviewers the entire file and expecting them to flip themselves. You need to bear in mind EAE interviewers are busy people and you are not the only candidate they have to interview.
The most economical personal portfolio you can get is a A4-sized clear folder that you can conveniently bring along to the interview.
I like to think of the EAE polytechnic interview as a meeting of great minds – where you, a fresh-faced applicant meets an experienced lecturer and course chairperson. When the expectations of both are met, then there will be a good match…one that is able to last all three years of poly life. Wishing everyone a smooth EAE interview journey ahead =)