Successful Entrepreneur Award 2012/2013 – Top 30 Respected Enterprises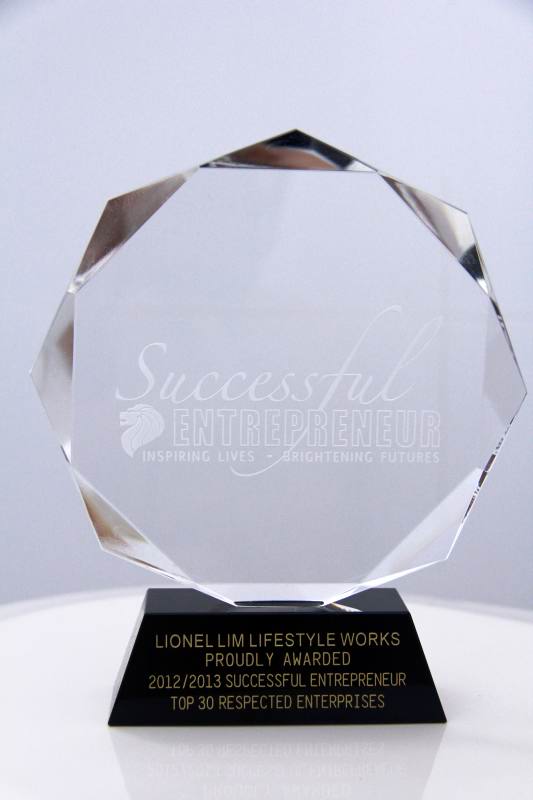 Ok, I admit this sounds like an oxymoron. On the one hand, I advocate we should not live our lives according to how others view us. Yet deep within, I am like everyone else – seeking solace in some form of recognition effort. In the corporate world, this manifests in the form of a performance bonus. In the business world, this comes in the form of an award.
Having decided to embark on this entrepreneurship journey since 2008 and restarting my business in 2009 after the first failed partnership, every step of my fruitful journey has similar parallels to the well-loved Chinese classic Journey To The West. Tripitaka and his three disciples – Monkey God, Pigsy and Sandy found meaning in their mission to embark on foot to collect the Buddhist scriptures from India. This is despite having to contend with numerous evil spirits, demons and misadventures along the way.
In the same vein, people see the happy fruits of each successful entrepreneur. What they fail to see is the time, effort, sacrifice and hard work that goes behind the scene.
Yet if you ask me if I'm willing to risk it all again and embark on the journey of entrepreneurship, I'll give you a resounding yes.
It is not the destination that matters. Rather, it is the journey that I have taken, the people I have met, the situations I have encountered and the lessons I have learnt in all that have enriched my life. And for all this and more, I am eternally grateful.
Being awarded the 2012/2013 Successful Entrepreneur Award – Top 30 Respected Enterprises is an honour for me. It is a validation of my efforts. Out of the 100 odd companies honoured, only 30 were given this special accolade. What made it extra special was that I was the first to be called on stage to receive the award from Guest of Honour, Member of Parliament for Sembawang GRC Mr Vikram Nair.
Feeling overwhelmed is truly an understatement and having my loved ones cheer me on from below the stage is the perfect bliss to cap off a beautiful day and even greater heights awaiting.