Singapore Is World Healthiest Country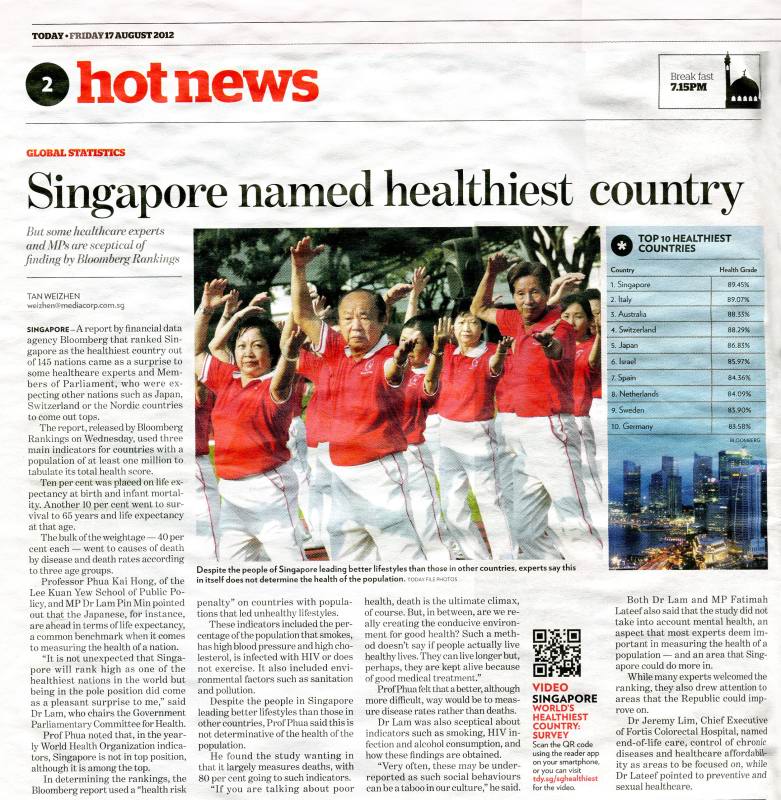 You cannot have missed the article in many of the leading newspapers today. The headlines scream "Singapore Named Healthiest Country".
So is it another accolade for Singapore – a country well known for engineering many firsts in the world?
I should think so.
But read on and you will realise that there still remains a large group of people who are skeptical of the survey findings. They find it incredulous that Singapore is ranked even before Western countries such as Italy, Australia and Switzerland.
Our leaders used to benchmark our standard of living against Switzerland and for a very long time, we envisioned ourselves to be the Switzerland of the East. Has that time come when we have surpassed and leapfrogged over our model?
If you ask me, there has indeed been a great improvement in the mindsets of the people. With the mushrooming of more mega-sports facilities and park connectors, the government is doing its utmost best to inculcate a nation of healthy people. And this message seems to have been adopted by the masses. A quick check at the public sports council gyms shows that it's always packed after office hours, not forgetting the public badminton halls are quite hard to book too (unless you book them in advance).
As a regular speaker on health, wellness and fitness topics, I too have found a steady increase in the number of enquiries from corporations, companies, government organisations, businesses and schools for such topics. More worklife balance committee groups are being formed in the corporate worlds to oversee the overall wellbeing of the employees.
As different research findings employ different yardsticks and methodology, the results for each survey will differ. For the current survey done by Bloomberg, Singapore is the world's healthiest country.
Let's not quibble over the results. If others say we are good, let's give ourselves a pat on the back. And then we will all work harder to maintain this accolade the next year.
Cheers Singapore for having been named the healthiest country!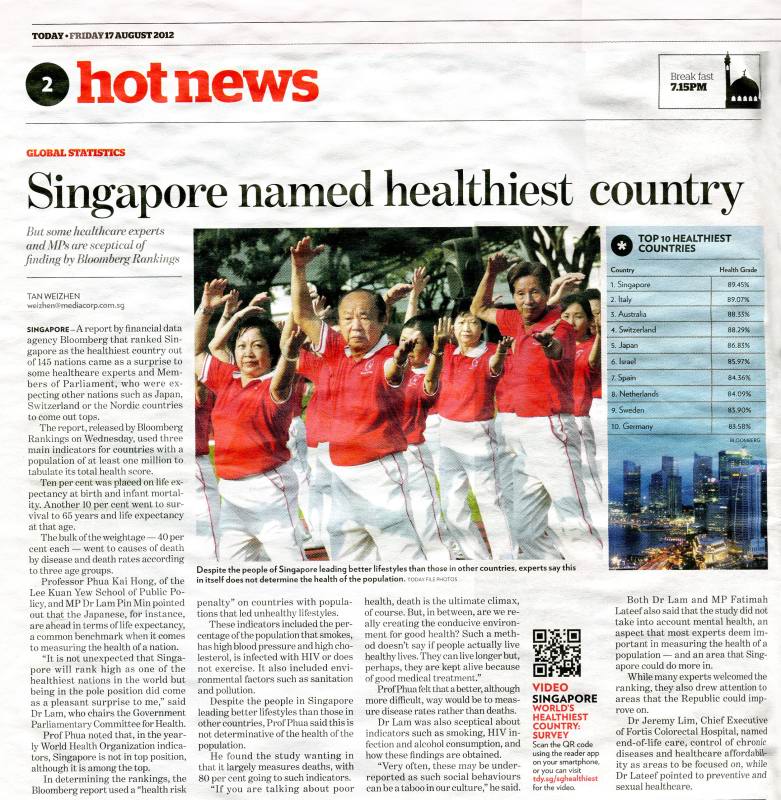 TODAY Newspaper, 17 Aug 2012