Personal Training Testimonial: The Hot Sexy Mama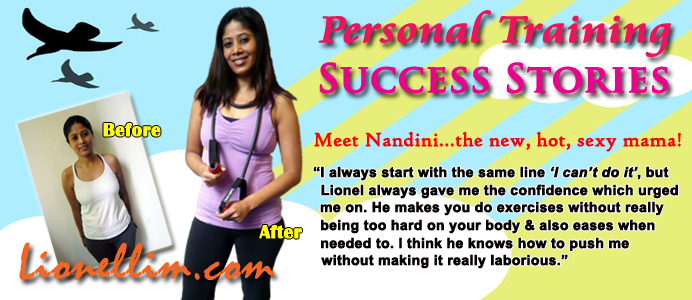 Nothing gives me more satisfaction than seeing my clients improve week after week. The feeling transcends everything as it makes me feel so blessed to be able to be encouraging them on their fitness journey. 
Although today's Vesak Day, but I'm still working! In fact, I choose to work, work is also part of play for me.
And what a day it turned out to be…what a transformation I've witnessed for myself ever since Nandini started personal training and resistance band training with me.
From frumpy housewife combating post-natal weight gain to the persona and confidence of the hot, sexy mama she showed during the photoshoot, I am really proud of her. No wonder she turns heads at school gatherings and has garnered praises from her circle of friends. 
This is her story. Feel inspired and take action too…! If she can do it, you can do it.
"A testimonial for Lionel…I am finally sitting down after six months to get this done for which I must thank him for waiting so patiently. I had done personal training before in Singapore after having my second child but to cut a long story short, there was really no change in my body. So I was skeptical about choosing another trainer to work with. However, since things were looking mighty bleak…so I gave it another shot with Lionel.
When I first met him, there were a lot of doubts in my mind…the ever pessimist that I am started thinking if this would work. He gave me a meal plan which I started following immediately. 
The routine was gentle at first and then after three or four sessions, he started pushing me. I always started with the same line "I can't do it", but Lionel always gave me the confidence which urged me on. He makes you do exercises without really being too hard on your body and also eases when needed to. We work on the entire body every session so it makes it more fun but I always complain. I think Lionel knows how to push me without making it really laborious. He mixes the exercises with weights and on the mat which also helps as it's not concentrated on just bulking up the body but also toning it.
I have definitely seen tremendous changes in my upper body. I trust he will help me achieve that "look" that we both laugh about. He's good company and though he's my trainer, we can still have a chat about other things which makes it more fun!!
Good luck with everything, Lionel. And I hope your book sells big time and you become a real trainer guru not just in Singapore but all over Southeast Asia, if not the world."