Personal Image And Grooming Workshop For Ngee Ann Polytechnic Students
These are exciting times. Indeed. Besides studying their core modules, students are also exposed to elective modules. Take for example the personal image and grooming workshop for Ngee Ann Polytechnic students.
Specially customized for the final year School of Engineering students, students attend the one day programme which focuses on theory and practical…culminating in a photoshoot. The aim of this "Groom Me" programme is simple – it is designed to give students the edge over others after they graduate mere months later and start entering the workforce.
As we all know, demand always outstrips supply. You, me and probably the other guy next door is also eyeing the same position in the same industry.
There is no real secret to the art of looking good. Impressing at first sight can never be far distanced from what I may term the holy trinity of grooming – colours, styles and shapes. Master all three aspects well and you will become a master at the art of dressing. It really is an art, rather than a science.
Following the mass lecture in the mornings, I liked the fact that we divided up the cohort into guys and girls in the afternoon session for them to focus on gender specific topics. For the girls, they were taught make-up skills while the guys focused on skincare and many picked up the technique of tying a tie (for the first time).
To spice things up a little, I had a tie tying competition among the volunteers. In life, it's not about the end results that matter most. It's about participating and playing full out. So I salute all those who stepped up to the challenge and didn't buck under pressure. Having to get the knot in a nice triangular shape and having the tip of the tie end up hovering around the belt buckle area are two key aspects to look out for.
And to facilitate their learning, I recorded a video of myself tying a tie with clear, lucid instructions and uploaded it onto Youtube. Here's the link for those of you who are keen to learn how to tie the four in hand style.
Just when all thought the fun was over, I asked for another batch of volunteers who were then handed a cleanser, toner and moisturizer. Yes, they were going to wash their face in class and then slap on skincare products. Although more guys are beginning to pay attention to skincare, it remains a fact that there still remains a large number of guys who use soap to wash their face.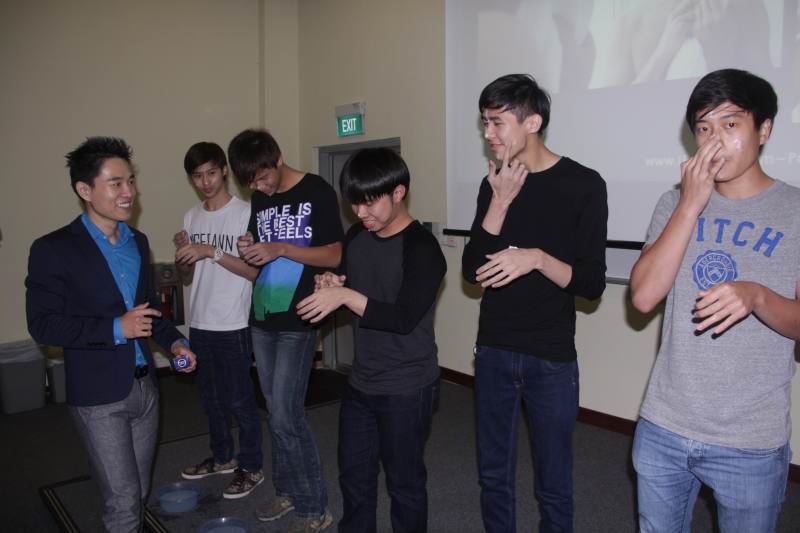 Yes, guys love things fuss-free. But using soap to wash your face is the last thing you should do. Consider this – our face has a pH level of 5.5. Compare this with the pH level of soap which is around 9 to 12. That is too alkaline. You only have one face so take care of it. A simple fuss-free skincare routine would comprise cleansing, toning and moisturizing. It's a simple three step routine twice a day. How more complex can it get?
With the tie done and the face properly taken care of, we moved on to the final topic of the day – hair management. Bad hair day, anyone?
Yes, you may have of that phrase. But with the right hair products, one can kiss goodbye to any bad hair days. Choose from a variety of hair products in the market ranging from gel, clay to mud and gum. My personal favourites are still gel and clay…simply because they are easy to rinse off. So for a wet look, I'll go for gel. And for a more natural look, I'll opt for clay.
With these handy tips mastered, I'm 100% positive the Ngee Ann guys are looking forward to a whole new experience next week – their photoshoot (probably a first for 99.9% of all students). I am equally excited for them 🙂