Personal Effectiveness Course For NIE Singapore
If there's something I absolutely love about what I do, it's the fact that I get to travel around Singapore and meet people from all walks of life. Through my speaking engagements and training workshops, it's a blessing to be able to spread the twin messages of confidence and success.
My itinerary today reads National Institute of Education (NIE). The only national educational institute in Singapore that trains and prepares student teachers for a future teaching career, it is my honour to address 619 student teachers in the massive NTU Lee Kong Chian (LKC) Lecture Theatre.
Personal effectiveness may mean different things to different people. But the one definition all of us will agree upon is that we strive to be a better person, to manage our lives and work better. This I think, there can be no dispute.
There are many ways one can achieve better personal effectiveness mastery. Yet underpinning these different ways are two fundamentals – namely the visual and verbal.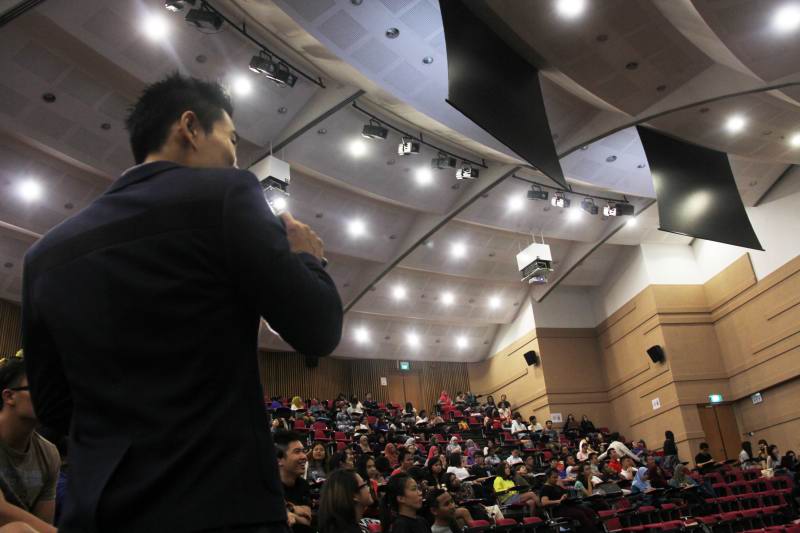 The 'visual' simply refers to the way we present ourselves in the eyes of others. Not only are brands today manufactured in the factories, they are also manufactured in the hearts and minds of our consumers. As future teachers in training, I'm sure all of them will want to gain the respect of their students. Respect is two-fold. It must be earned and not demanded. Back in school then, I respected the teachers who were not only knowledgeable but also presented themselves well – both in terms of conduct and dressing. You guessed it right…the sloppily dressed teachers certainly didn't get my respect.
Take pride in your dressing in the same manner you will take pride in teaching and moulding the future of our next generation.
The 'verbal' refers to the way we communicate with one another. Life is not a one-man island. Instead, we are surrounded by people around us. As future teachers, they will be surrounded by students, colleagues, parents and service contractors. Knowing how to interact well with every segment of society is an important skill to master. I will always remember my ex-teachers for either the right or wrong reasons. Some will walk into class and start speaking to us in an aggressive tone, expecting us to comply with each and every instruction. This form of pedagogy might have worked in the 1970s and 1980s but today's society requires treating students more like adults…and seeking their co-operation. It is no longer a one-sided top-down approach. Students nowadays are no pushovers.
Bringing the trainee teachers through a labyrinth of self-discovery activities served one main purpose – to help them become masters and mistresses of their own lives. Only when your own house is in order can you reach out to help others who are still on the path to personal effectiveness.
Here's a picture with some of the trainee teachers who stayed back after the workshop 🙂