NUS Alumni Awards 2013 – Outstanding Young Alumni Award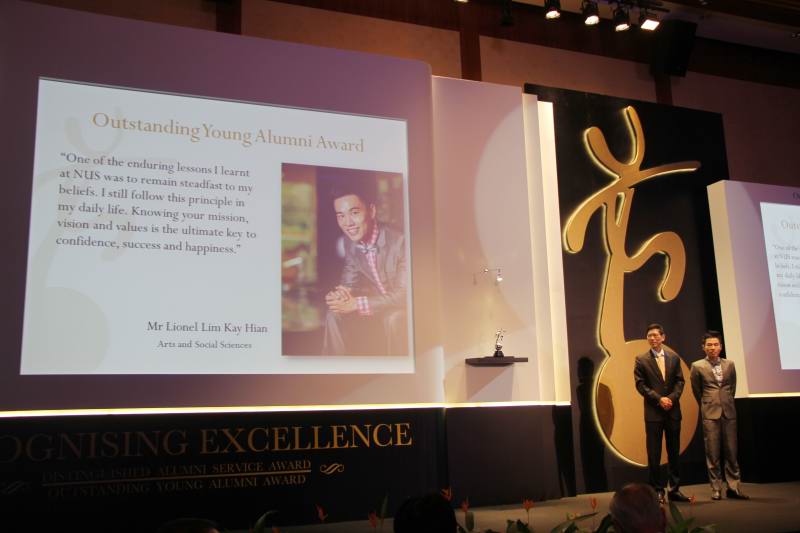 I'll be lying if I didn't say I was literally over the moon after receiving news of my newest win even though this is my fourth award this year…but trust me, it still came as a huge shock to me.
Every award, big or small, holds special meaning in my heart because it marks the industry's recognition of one's coming of age into the big league. This one is no different. In fact, this is one award that is worth its weight in gold.
I feel deeply honoured and humbled at the same time to be accorded the NUS Outstanding Young Alumni Award 2013 by the National University of Singapore. It isn't everyday that one gets the chance to be part of history in the making. I am thankful to my alma mater for this realization. If Dad was still alive, I'm sure he would be extra proud of this prestigious moment.
In his dinner address, NUS President Tan Chorh Chuan shared that "this year's award winners are outstanding individuals who stand out through their achievements, leadership and dedicated service to the community, excelling in their own fields but also contributing in various ways. NUS is proud to count them among our distinguished alumni. They inspire us to pursue excellence with passion and unwavering commitment and to do our part for our community."
What makes the award extra special is that the NUS Alumni Awards is held biannually and only ten alumni graduates are given this accolade each time.
Thinking back…one of the most enduring lessons I learnt during my time at NUS which has served me both personally and professionally was staying steadfast to my own beliefs and not go with the herd mentality. Very often, friends would cajole me to take the same module with them. But at the end of the day, I chose not to because I wanted to read something that spoke to me and was in line with my interests. Moving forward, I still use this same guiding principle in my daily life and lifestyle businesses. Knowing what you represent (i.e. mission, vision and values) is the ultimate key to confidence, success and happiness.
Thank you NUS!