My Healthy Meal: Healthy Teriyaki Chicken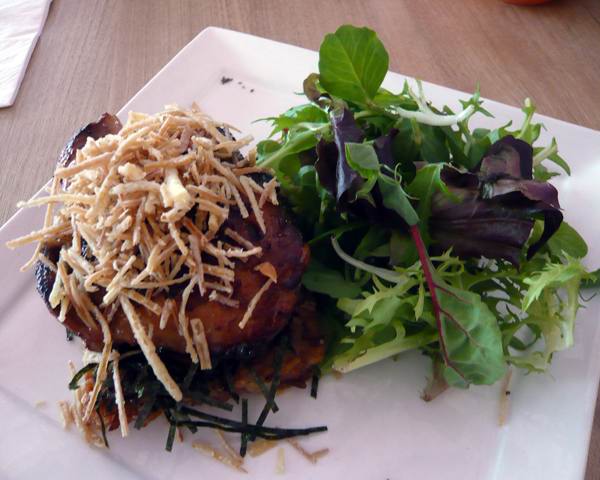 Guess what I found on a hot Friday afternoon? A quiet cozy eating place tucked in the middle of Bukit Timah serving delectable yet healthy food!
When one thinks of teriyaki chicken, one usually thinks of chicken with loads of sweet marinated sauce over it with sticky Japanese rice or white rice. And the chicken almost always comes with the skin. 
Half expecting my teriyaki chicken to turn up this way, imagine my pleasant surprise when this dish below was presented to me. WOW!
The skin of the teriyaki chicken was removed. 1 brownie point. Below the slabs of chicken meat was a toasted brown rice cake which was crunchy. 1 more brownie point. Add some leek on top of the chicken (no fries, sorry folks…) and seaweed flakes. Yet another brownie point. And finally, include lots of fresh garden salad (with no dressing)…Kudos…
The taste was absolutely fabulous. I finished every morsel of food that was on the dish. Bon appetit!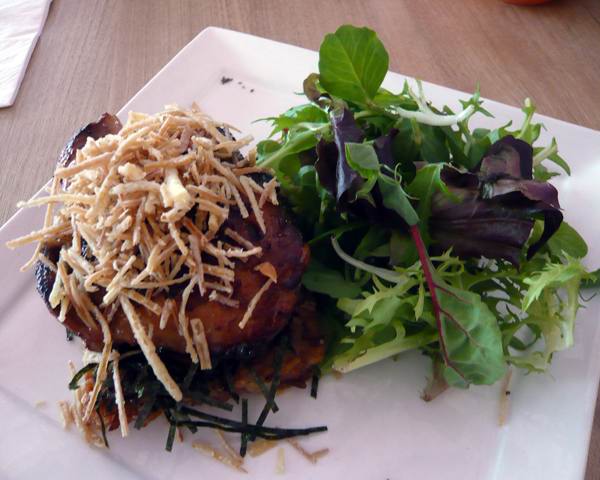 The healthy version of teriyaki chicken