Mrs Singapore South East Asia 2011 Pageant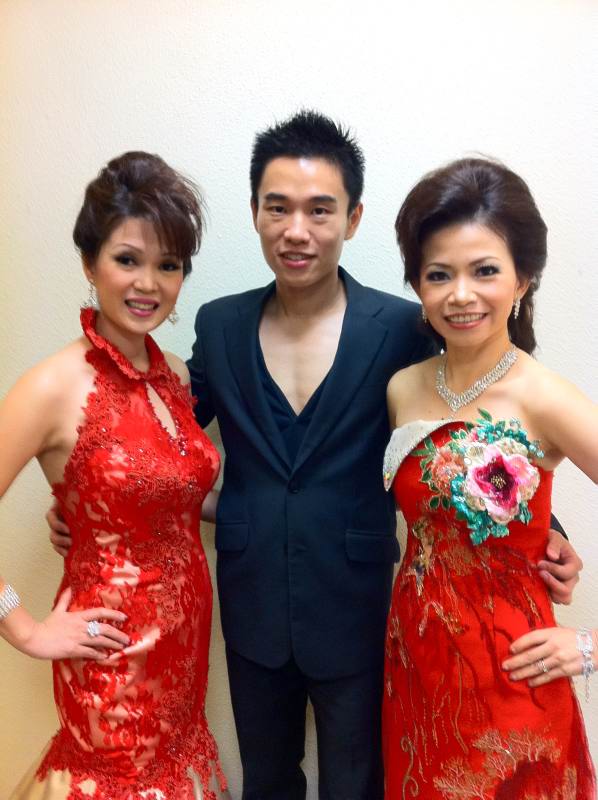 I'm at the backstage of the DBS Auditorium now mingling with the ladies. Yes, if you recall reading my earlier blog,
 you would know that three of my ladies who were also my students from my 
grooming workshop
 are competing in the grand finals of the Mrs Singapore South East Asia 2011 pageant. In a short while, they will all be ready to strut their stuff and ooze their confidence on stage. So here I am to give them little words of encouragement, wish them the best of luck and cheer them on. The small piece of advice I gave each of them was to just enjoy the moment and have fun.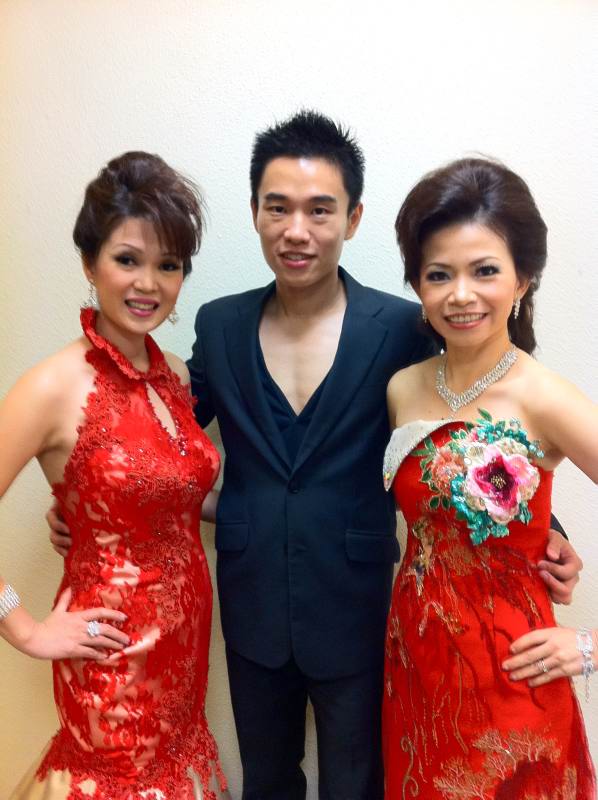 With Sally & Grace backstage

With Dior before the pageant
Having judged two pageants previously – the Classic Mrs Malaysia International World 2011 Pageant and the Miss & Ms Amazing Plus Size Beauty Pageant 2010, I'll not be judging tonight as it would be construed as showing favouritism to my students. Instead, I'm being invited as a guest to grace the Mrs Singapore South East Asia 2011 pageant.
Every pageant brings with it different expectations because for all the ladies tonight, it will be a triumph of sorts. To many, a woman is an extraordinary pillar of strength regardless of the role she is playing. To multiply this fact many times tonight, we are witnessing 10 married ladies competing for the Mrs Singapore South East Asia 2011 title and another 5 ladies aged 45 years and above competing for the Elite Mrs Singapore South East Asia 2011 title. 
Although beauty is the probably the first thing many of us men judge a woman by, I strongly feel a woman embodies much more than just that. In all honesty, it is a challenge to balance so many roles such as wife, mother, daughter, sister, colleague and here we have these 15 ladies balancing perhaps the biggest role of their lifetime – that of a pageant contestant.
A pageant it may be called but I'm very sure it is much more than just a pageantry show we can expect later. Never just a beauty contest, it is also a platform where a woman rediscovers herself, and develops her strength and personality. Whatever the outcome may be, I'm sure my three students have enjoyed the journey thus far and will do themselves proud. After all, this journey has provided them an opportunity for them to showcase their talents, intellect, creativity and inner and outer beauty. More importantly, they can be the real life inspirations for the women around them as they exude their best. 
I also found time to catch up with some old friends before the pageant started. One of them was Mdm Lim Siew Cheng, winner of the Classic Mrs Malaysia International World 2010 pageant. She still remembers me as her "part-time boyfriend" who walked the red carpet with her at the Classic Mrs Malaysia International World 2011 pageant in KL in April 2011. 

With Mdm Liew Siew Cheng, winner of Classic Mrs Malaysia International World 2010 
Sitting in my seat now eagerly waiting for the pageant to start officially, the 15 ladies appeared in their national costumes. Choosing to go oriental by wearing cheongsums, Dior, Grace and Sally charmed with their pearly white smiles, svelte figures and right dash of colours. While they charmed on stage, I was busy at work off stage clicking away with my cameras. And you can tell we have a good chemistry as each time I neared the stage and wanted to click away, they would look at my direction and smile for me 🙂 

Grace & Dior in their cheongsum national costumes
It's interesting to see the choice of national costume for each of the 15 ladies as it truly demonstrates their style. So whether there were twin sets or more of the cheongsum, sarong kebaya or sari costumes, one would never tire of seeing each lady walk the stage. Plus each lady played to the audience each time she moved to the edge of the stage. So we saw some ladies acting coy while others gave flying kisses generously. And that really got the crowd excited!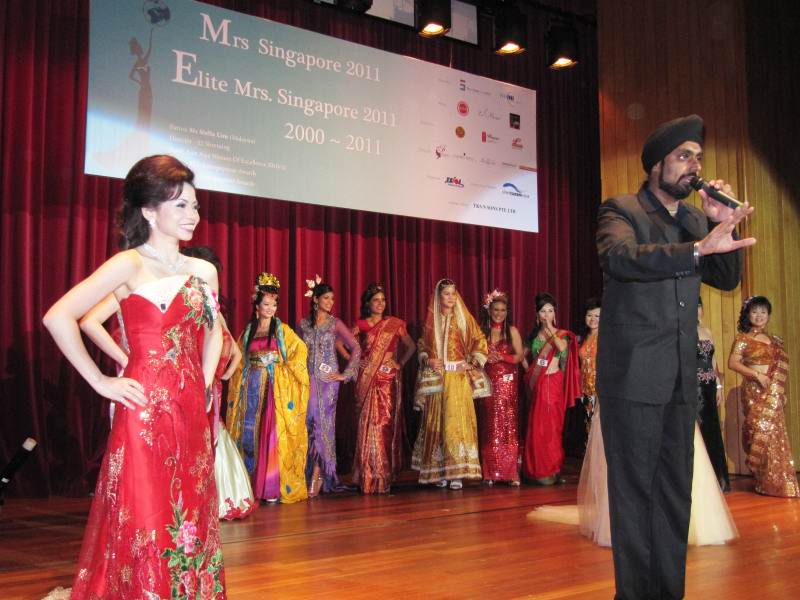 The national costume segment
If the national costume was the appetizer, then the evening gown segment must be the highlight of it all. While some ladies opted for the bouffant gowns or ball gowns to make them look like modern princesses; others chose to keep it simple by wearing straight cut gowns, sheath and empire cut gowns, accompanied with accessories to glam it up. So like what I have always taught in all my grooming workshops, you choose your gown based on your body shape, colours and personality style.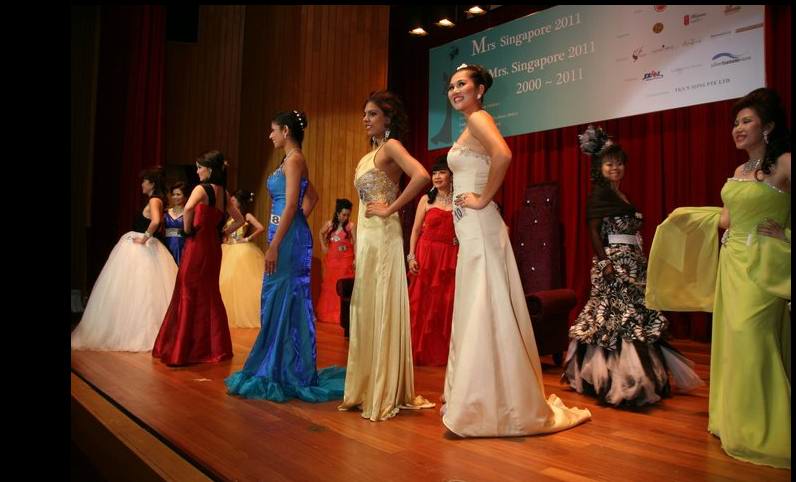 The ladies in their evening gowns
And then it was time to hand out the awards. As the MC read out the list, I was silently praying inside and hoping that my students would win some. 
Well, for the record, they didn't let me down. In fact, they won big. Yes, all three of them! I'm really proud of them. Grace singlehandedly walked away with 5 subsidiary awards that I jokingly called her the most bemedalled lady. Sally won 1 subsidiary award. And Dior floored the competition by winning the coveted Mrs Singapore South East Asia 2011 crown!
Although there can only be one final winner in the end, I'm truly happy for all three of them as they have demonstrated lots of guts, beauty and brilliance. And the icing on the cake for the teacher must be that moment when Dior, the newly crowned winner, told the hordes of photographers who gathered around her "this is my coach" when we took a picture together 🙂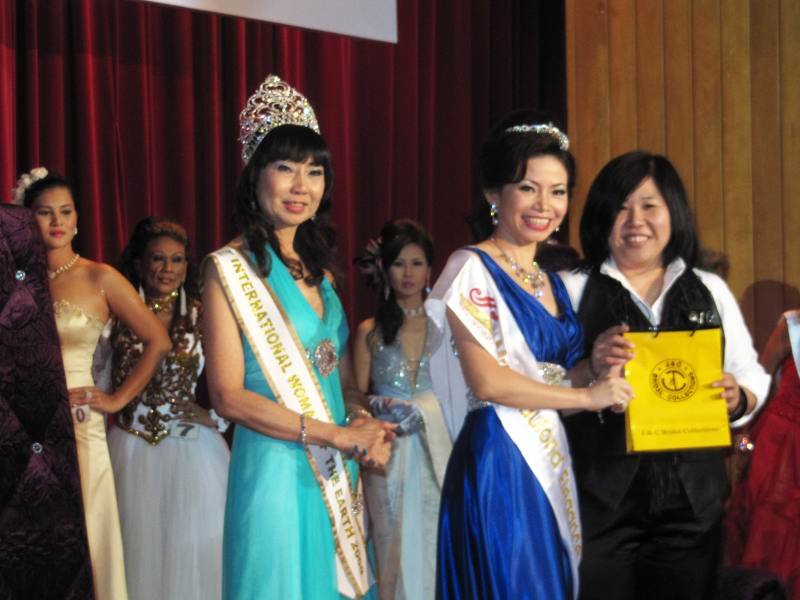 Grace receiving yet another subsidiary award!

Dior's crowning moment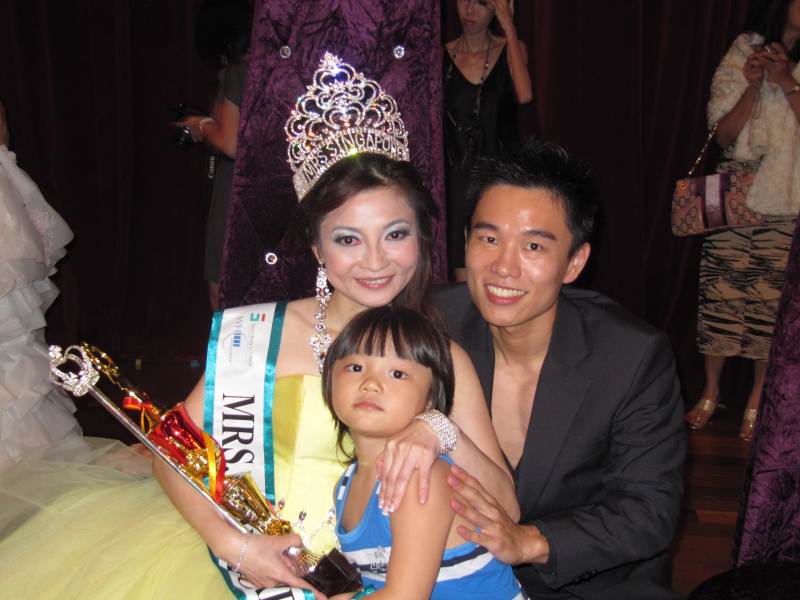 The proud teacher and his protege…now turned beauty queen Mrs Singapore South East Asia 2011. And that's Dior's son 🙂