Mens Grooming Workshop for Hwa Chong Institution: 3 Tips To Become A Stylish Guy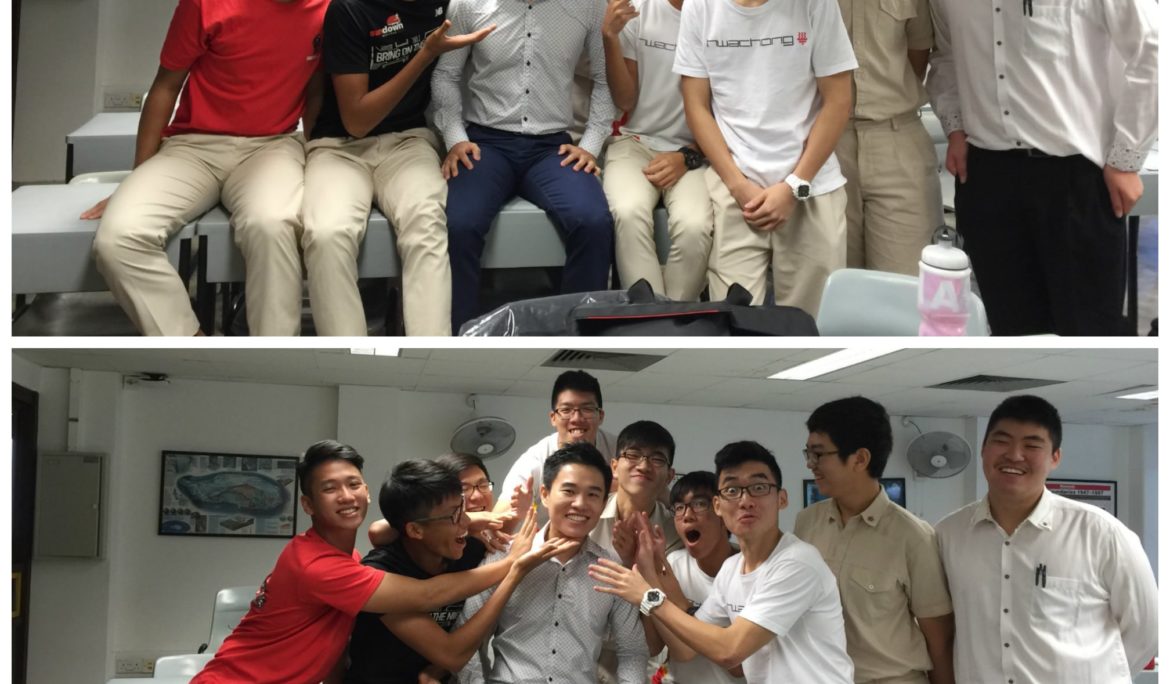 I'm not a fashion police. So I'm not going to tell you what's hot and what's not. Neither am I going to tell you what's in vogue. That's the job of a fashion stylist. And as we all know, trends come and go. 
 
Rather, as an
image consultant
, I'm going to share with you how you can become a more stylish guy in terms of your dressing.   
And I'm sure you, like the JC2 students today who signed up for the mens grooming workshop from Hwa Chong Institution will leave class feeling invigorated and empowered to look their stylish best always.
Tip #1: Wear The Perfect Fit
 
Remember, what you wear must fit you. And they must fit you perfectly. 
 
For shirts, the shoulder line is the most important consideration. The shoulder seam should meet the corner of your shoulder bone. Next, your armhole should be comfortable when you lift your hands up. They should not be so tight that they threaten to cut into the underarm. But beware of excessive space as that means it is too baggy.
 
Moving downwards to your pants, always adopt the middle ground. Do not wear a pair that is skin tight nor baggy. The emphasis should be on comfort as you do not want to do injustice to your crown jewels. 
 
I always advise guys to go for a slim straight cut. 
 
If you wear the perfect fit, it looks as if the material was tailored especially for you. And there will be no doubt your confidence will be boosted multifold.
Tip #2: Pay Attention To Details
 
The devil is always in the details. Let me share four proven ways you can consider.
Play With Print or Accents
 
An accent of colour or small prints (think dotted or animal) adds creativity to a plain white shirt.
Similarly, a different colour for the collar and shirt cuffs is going to help you up the style quotient. 
Wear A Dress Watch
 
Firstly, choose a nice dress watch. There are many brands available in the market. You don't have to buy an expensive one. But at least choose a classy-looking one. For the watch strap, choose between the steel bracelet and the leather strap. 
 
I personally like the chronograph as it is timeless and fits all occasions.
Wear A Leather Belt
 
Secondly, wear a nice leather belt that is simple in design. No PVCs or fake leathers. No skeleton skulls or huge brand insignias as well. 
 
Interestingly, the real purpose of wearing a belt is to act as an accessory. It's not there to hold up your pants. 
Wear Quality Leather Shoes
 
Thirdly, enjoy deciding which shoe style suits your lifestyle best.
 
Shoes for guys have progressed over the years and we have lots of options to choose from nowadays.
 
I list for you the Oxford laced-ups, loafers, brogue, monkstrap and Chelsea boot.
 
If you do not already know, shoes are the foundation of every look. I call it the finishing touch.
Paying attention to what you wear on your feet will score you brownie points.
Tip #3: Invest In A Skincare Routine
 
Like it or not, your face is the most thing others see. You don't talk to people by bending your head downwards. Neither do you hide behind a pile of books while talking.
 
Men have always been labelled as thick skin by our female counterparts. Derogatory as it sounds, there is actually a lot of hard science truth behind it.
 
A man's skin is thicker than a woman's (thanks to our testosterone hormones). In fact, it is about 20 times thicker. Besides being thicker, men's skin is also oiler and warmer. 
 
Many guys think they can get away with washing their faces with soap. But they cannot be more wrong.
 
Thin or thick skin, your skin still needs nourishment. So if you haven't started, it is time to consider adopting a simple three-step skincare routine now. 
 
Think cleanser, toner and moisturizer. 
 
If you are more hardworking, throw in an eye gel and serum too!