Men Grooming Workshop Singapore
If there ever is a biggest misconception of the century, it must be the fact that many still believe that grooming is a woman's thing.
Oh come on…how can that ever be? Do a simple count of the magazines sprouting up and the number of new shops appearing on our shores…And you will know the male market is growing at an incredible rate never seen before.
Grooming is a universal topic – never either a woman's thing or a guy's affair. Grooming means different things to different people. If I may offer a simple definition, grooming is simply "the art of looking good". And that incidentally, is the name of my grooming workshop!
Why the art of looking good? Search no further than the five guys who are attending the men's grooming workshop.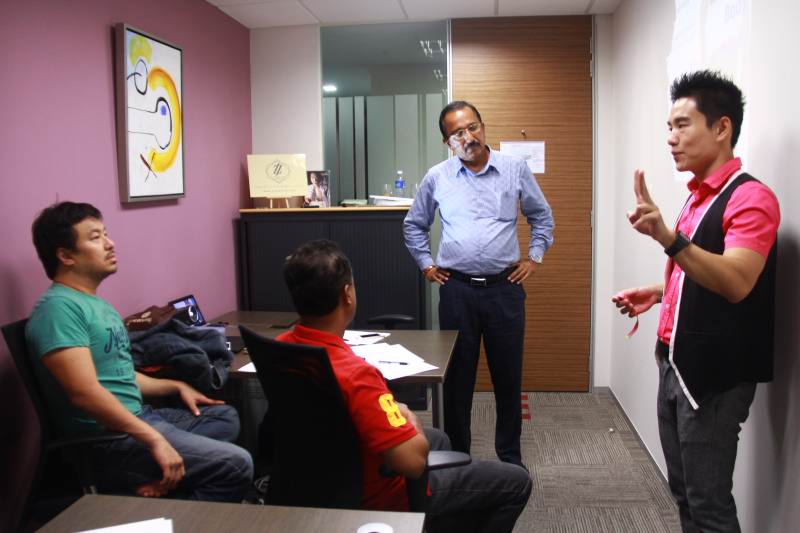 A well groomed man is someone who is organized yet attentive to details. He knows what to wear on a certain occasion and certainly he is able to hold a conversation well.
We all want a polished image that gets us that business deal or that hot babe in town. We want an image that exudes confidence and speaks of our success. As a guy myself, I think I can speak on behalf of all the male species on planet earth. We like things simple and fuss free.
Whether it is skincare (a simple three step skincare routine is sufficient) or choosing the right colours for the corporate world, we want easy to comprehend 'rules' which we can do on a routine.
Trust me, men are not creatures of emotions. We will not buy based on emotions. Rather, we will buy based on logic. So if I can share with you why certain colours flatter you and take the years old your actual age, then you really should pay close attention and follow my advice to a T.
A good mixture of both fresh graduates, business owners and seasoned executives, I was pleased that more men are stepping forward to learn more about how to groom themselves in this increasingly competitive world.
The best thing about a men's grooming workshop is that I'll let you in on a secret. Out of all the tips and personal anecdotes I shared, as long as you implement any three of these life-savers (if I may term them this), the women in your life will take note. What seems like a silly change to you is a refreshing new image in their eyes.
Let us all instill good grooming habits in our lives. Men, we owe it to ourselves to be an icon of style, substance and success.