Lionel Lim Receives Asia Notable Male Icon 2015 Award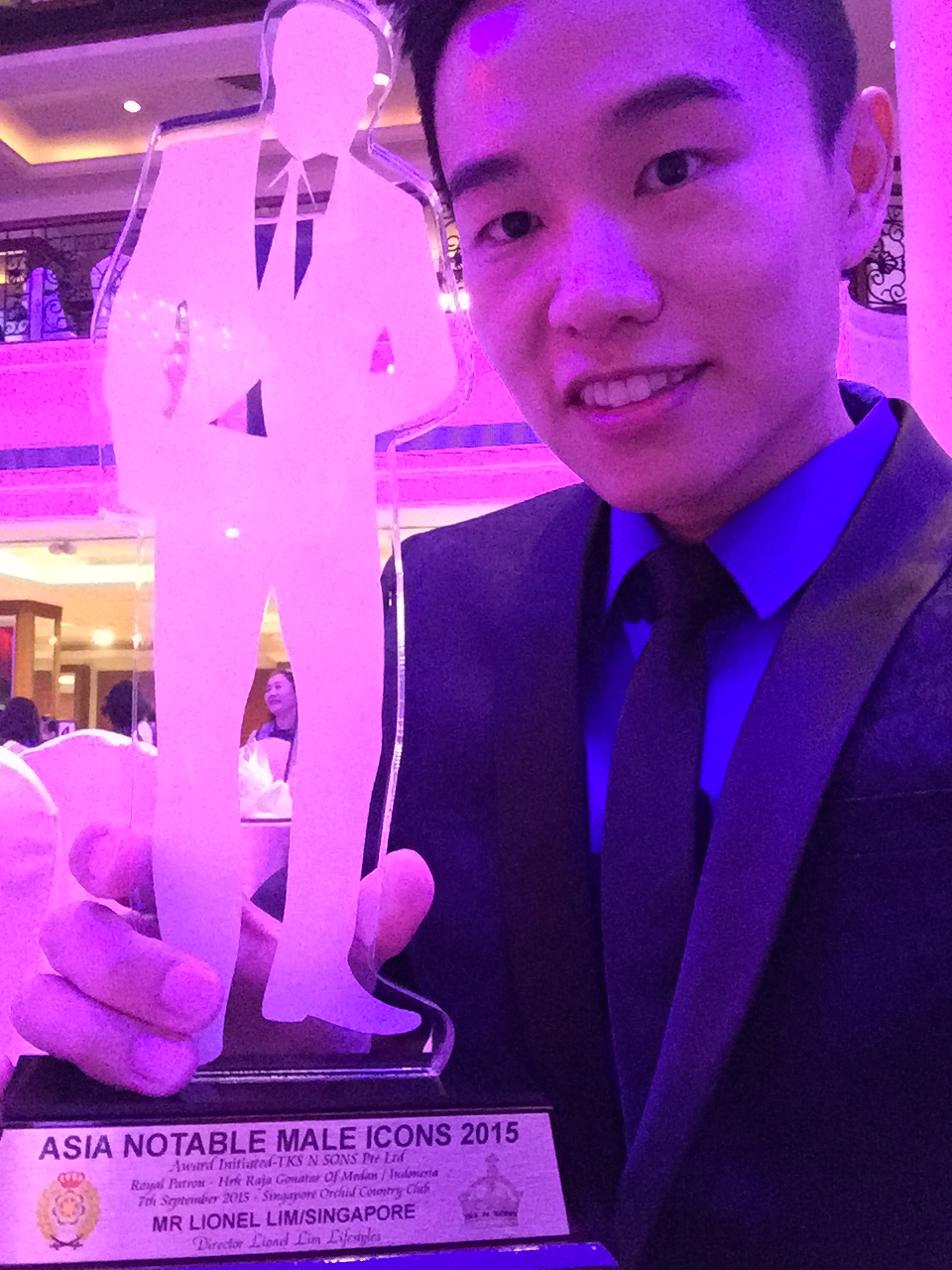 Tonight, I was honoured with another award – the Asia Notable Male Icon 2015. I am naturally thrilled. Who isn't happy to receive awards, right?
But the truth is I never set out to be an Singapore Image Consultant icon.
All I did was to design my life around doing the things I enjoyed doing and excelled in. And honestly, that made a difference as more people got to know about me and what I can offer.
In today's age and time, you can no longer afford to turn a blind eye to personal branding. A powerful personal brand is the magic that helps you stand out from the crowd into the big league.
Abstract as it may sound, personal branding has to do both with your image (external) and personal values (internal). Your image is everything – when you look good, you will feel great.
You exude your personal values in your everyday dealings with others. For example, do you seek win-win outcomes? Are you easily overcome by emotions? Do you know what your work ethic is?
To be recognized as one of Asia's male icon is indeed an honour. It is also a weighty accolade as it means I have to do even more in my new capacity.
Besides teaching programmes and workshops to share my knowledge with corporates, government organisations and schools; I have also since 2013 started my trainer coaching programmes.
The coaching programmes are targeted at individuals who are keen in the fitness and image consultancy industries respectively.
As I have always seen it, having succeeded myself is really not that a big deal. But if I can also help my students succeed the same way I have done, that would be satisfaction multiplied many many times over.
And I am happy to share that both my coaching programmes have succeeded in creating happy and highly-paid fitness trainers and image consultants in Singapore. Do check out Fitness Trainer Coaching Programme and Image Consultant Coaching Programme if you too are keen to follow a proven system to spearhead your way to success.
I have no secret recipe for success. I only have a proven system that works time and time again.
I do these three things and I do them over and over again. Just like how you watch your laundry go through the "rinse and repeat" process in the washing machine.
#1: Walk The Talk
I am as authentic as a plain yogurt can get. No fluff, no BS. Just the real deal. You will find me working out at least thrice a week in the gym and partaking in my three-step skincare routine religiously twice a day. I just follow the same nuggets of advice I share with my students.
#2: Remain Humble
Multiple awards aside, I am still the same old me. Whether it is starting out as a nobody back then or having become somebody now, my humility has served me well.
Unlike others who have strong business connections or benefactors ('guiren'), I had to rely on my own hard work to make it. Every step I took was a leap of faith. And that has taught me to count my blessings and remain humble. I am as enthusiastic as I first started out in 2009.
#3: Work On My Personal Branding
Now, this is a big one. Even before social media exploded, I was already making my presence felt online. This is all about spotting the right trends and gearing yourself up for the next one.
Every business should have an online presence. Make that a charismatic online presence. Remember, products are manufactured in the factory, while brands are conjured in the mind. This may sound like a fable but it is my true life-story, which I have shared in my first book "Branded For Success".
At the end of the day, nobody owes you a living. It's either your brand lives to be one of the greatest or falls by the side in the abyss.
And for now, I'm enjoying my little moment posing with my new trophy 🙂