Lianhe Wanbao Health And Wellness Article – Fitness Ball Exercises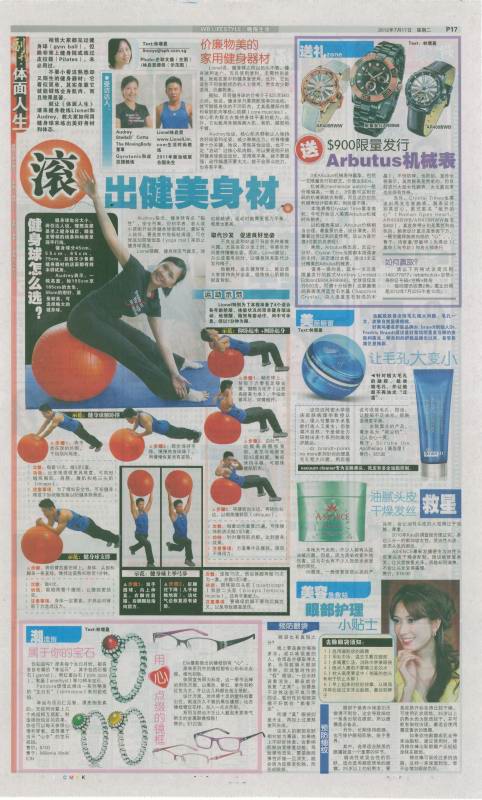 In my last article in Lianhe Wanbao, I introduced the resistance tube and how it is one of the lightest and most easily portable fitness equipment in town. In the latest article published in today's Lianhe Wanbao, I turn my attention to the fitness ball.
In recent years, despite increased competition from new fitness entrants such as kettlebells and TRX, the fitness ball remains a common sight both in the gyms, offices and homes because of its versatility, practicality and cost effectiveness.
If you ask me, portability is not an issue with fitness balls as it is very much lighter compared to the other gym equipment. Once you inflate it, you can just leave it in a corner. Besides exercising with it, it also doubles up as a seat as it helps correct your seating posture and helps prevent back problems.
I have a fitness ball in my room too. And I love it simply because it helps in overall muscle tone for your body. In particular, it helps in core strengthening, stretching, weight loss and muscle building. These days, fitness ball training has been further integrated with yoga, Pilates, pre- and post-natal exercise and exercise programmes for seniors.
Most people would use the fitness ball to train their core muscles. It is not uncommon to see people doing crunches on the ball. But that is just one aspect of it. What's more important is that the fitness ball is an excellent complement to the traditional equipment like machines and free weights such as dumbbells.
Because of the flexibility of the ball, it allows people of different levels of fitness to train using it for a wide variety of exercises. For example, instead of doing dumbbell presses on a flat bench, try doing dumbbell presses on a fitness ball. You will realize it is more challenging as it allows for greater shoulder retraction and recruits more muscle fibres for both stability and strength.
In today's newspaper article, I recommended four different exercises that target different muscle groups. They are the hands-on-ball pushups, ball plank, lunges with ball overhead and abs crunch with oblique twist.
Happy exercising and of course, have a ball of a time!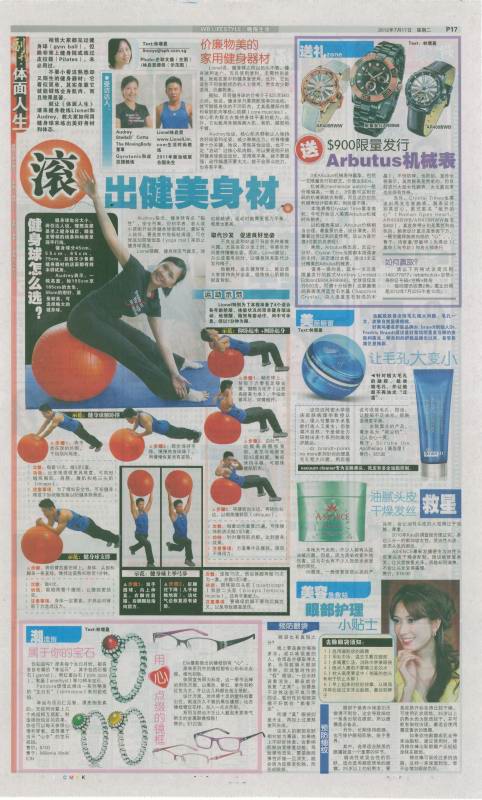 PS: Click here to read about me in Lianhe Wanbao: Resistance Tube Exercises (29 Jan 2012) 
PPS: Click here to read about me in The Straits Times Mind Your Body: Mr Confident (12 Jan 2012) 

PPPS: Click here to read about me in The Sunday Times: Dressed For Success (4 Sep 2011)


PPPPS: 
Click here
 to read about me in The Straits Times Life: Collectors Series (20 Aug 2011)