How To Prepare For EAE Polytechnic Group Interview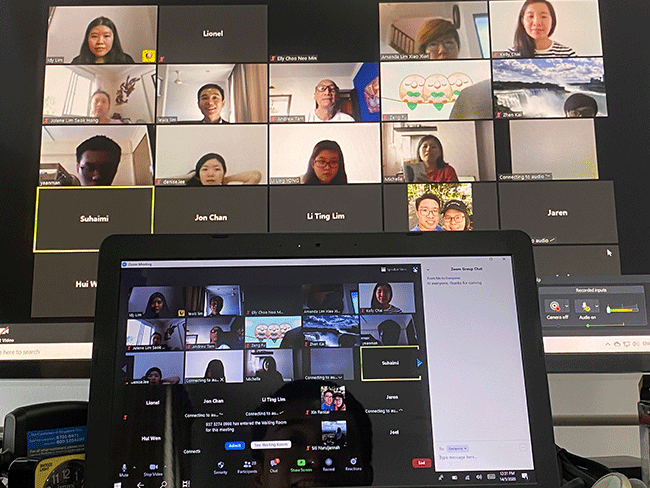 If you always thought an interview was nerve-wrecking, then you probably haven't been through a group interview. As the name suggests, a group interview refers to a setting where you are put together with other candidates in the same room in front of the interviewers.
Under such a circumstance, the stress level is doubled or tripled. After all, a group interview does resemble 'Survivor', the reality hit TV show, where contestants pit their wits against each other to emerge victorious.
It's that time of the year again when the winds of the Early Admission Exercise (EAE) start blowing into the lives of (almost) every secondary student.
And interestingly, it's fast becoming a new trend for all the local polytechnics to adopt group interviews for EAE (early admission exercise) as the preferred choice of course recruitment as firstly, it saves time for the interviewers; and secondly, it offers a level-playing field for the different candidates to showcase their abilities – chief of all their ability to think on their feet.
In light of the ongoing Covid-19 pandemic, EAE group interviews are now conducted online.
Read on to find out how you should prepare yourself for the EAE polytechnic group interview. To aid you, I have coined an acronym POWDER.
P – (Prepare) Yourself
The most important thing to remember is to get prepared. If you fail to prepare, be prepared to fail.Your preparation work should primarily revolve around the poly course syllabus. Be familiar with the three year programme – the modules for the foundation year in Year 1, the elective modules (if any) and the specialisation modules in your final year in Year 3.
Reading through, make mental notes to capture what excites you about the course. For example, if you are applying for the Diploma in Early Childhood Education, are the modules in alignment to your aspiration to become an educarer or childcare teacher?
In short, draw reference from the modules and link them to your aspiration.
O – Turn Up (On Time)
On time does not mean you turn up on the dot as the host needs time to admit you into the virtual meeting room. So, make sure you are in the virtual waiting room at least 15 minutes before the scheduled interview time. Lateness is unacceptable.
For the online EAE poly group interview, take note of the virtual platform the poly is using. This could come be Zoom, MS Teams or Google Meet. You would have been notified by the poly admin.
If you are new to the online platform, test it out before the actual interview day.
Here's a quick checklist if you are a beginner.
– Do you know how to unmute (and mute) yourself?
– Do you know how to switch on the video?
– Do you know how to type your response in the chat box?
– Do you know how to share your screen?
W – (Wear) It Well
If you don't already know, there is NO uniform in the polytechnic. So if you are thinking of wearing your secondary school uniform and attending the virtual EAE poly group interview, forget it.
Learn how to wear it well by dressing in something comfortable yet professional.
Remember, you will be seated down. The focus will be on your face and your top.
If your hair is messy or dishevelled, either cut it or tie it up.
If your beard or moustache is overgrown like weeds, shave it.
If you have a resting bitch face, practise smiling.
If you look like a walking Christmas tree with too many dangling accessories, remove them.
For your top (either shirt or blouse), it needs to look presentable and easy on the eye. Avoid wearing stripes or other patterns because of the moire pattern effect, where contrasting patterns compete with each other for visual attention. Instead, choose colours that flatter your skin tone. If you have attended my colour analysis workshops before, this should be a breeze for you.

D – (Differentiate) Yourself
The group interview is all about differentiating yourself from the rest.
So if you are usually a shy person who doesn't speak up, you really need to up your game. If you don't speak up, the interviewers will not know how to assess you.
Treat the interview like a get-to-know-you session. Do not feel stressed.
Differentiating yourself also means equipping yourself with your online portfolio. Do you have one which you can show? If yes, direct the interviewers to the relevant sections.
E – Speak With (Energy)
Speak with energy.
Convince the group interviewers with your positivity. And there is no better way to do this than using your voice to project energy (vary the pacing and the tone); and focusing on your body language (I'm referring specifically to your arms, hands, head and facial expressions).
R – (Recapitulate) The Viewpoints
Recapitulate. There are two steps to this.
Step one is for you to summarise the viewpoints of the other candidates. Do this succinctly.
Step two is for you to critique those viewpoints. Use conjunctions such as "but" or "however" to highlight differing viewpoints; and linking words such as "to add on" or the conjunctive "and" to further build on the viewpoints.
Recapitulating is a very powerful strategy that shows you have been listening to what the other candidates have mentioned or shared. When you recapitulate, make sure you are diplomatic.
Don't say things like "what XXX mentioned was silly."
So there you have it! Use my POWDER acronym to power your way through the group interview today and get accepted into the poly course of your choice.
And if you need help in preparing for the EAE interview, contact me and I will coach you privately.