How To Create The Perfect Resume?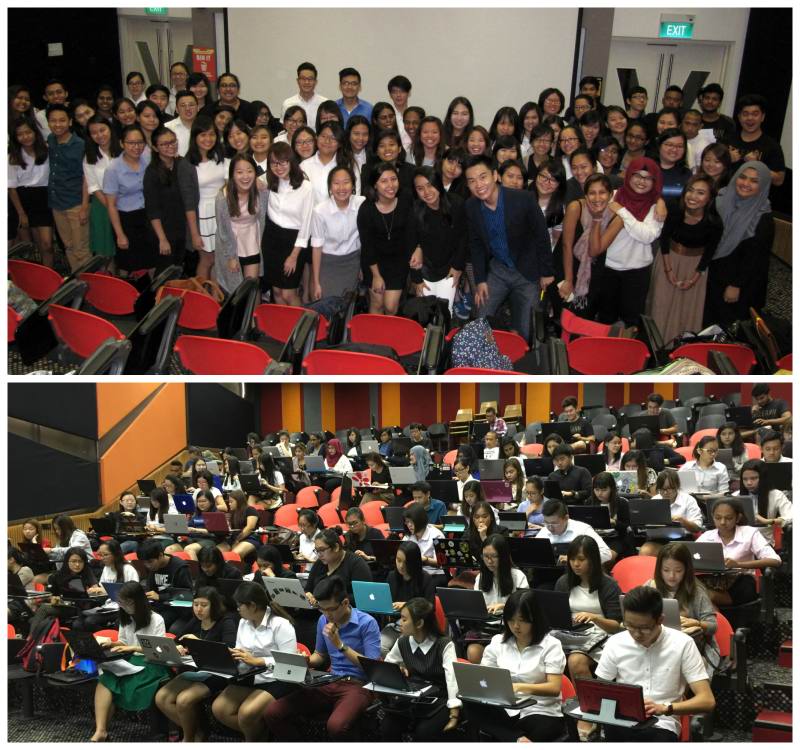 Looking at the 77 eagle-eyed students from Ngee Ann Polytechnic who have come to spend their precious Saturday with me reminds me so much of my own days back then when I was still a student. Aptly titled the
resume writing and interview skills workshop
, this is the highlight for every student as he or she enters the final year very soon.  
I find it a true honour to be invited to do this workshop again. Because I know if every student learns the art of crafting a good resume, it will make a huge difference in whatever path he or she chooses to take post-graduation. 
 
After graduation, there are generally two options you can consider. The first is to look for a job. The second is to pursue further studies. Interestingly, both options require you to present a meaningful case for yourself. This often comes in the form of a resume. 
 
In universities where places in popular courses such as business, medicine or law, it is customary for an applicant to send a resume to the faculty for consideration as well.
 
There is nothing sacred or mysterious about the resume. Just think of your resume as your self-introduction to the world. 
 
I've been asked these two questions so many times that it just rolls off my tongue – is there such a thing called the perfect resume? And if it exists, how can I create the perfect resume?
 
I'm happy to tell you that yes the perfect resume does exist. And I'm now going to share with you 3 tips on how you can create it.
Resume Tip #1: Decide On The Right Format
Generally, there are two formats to the resume – choose between the chronological and functional. For fresh graduates, I will always advocate using the chronological format. 
 
As the name suggests, the chronological format allows you to list your most information first. This is important as employers can at first glance see what your most recent achievements are, without having to pan downwards.
For mid-career entrants or jobseekers with ample work experience, you can consider using the functional format as it offers you more scope to express your experience in prose.
Resume Tip #2: Focus on The Content
 
You need to package the resume in such a way that it looks impressive. As you only have two pages maximum (the first page is a snapshot of your personal data, educational qualifications, work experience and achievements; there really is a challenge to squeeze everything in. Page two is reserved for your referees).
 
When talking about content, I cannot not mention the overall presentation of the resume. Be selective intellectually.
Don't put everything in the resume as it will look too crammed. Aesthetics is important. List down everything that you can remember. Then choose the ones that will make you stand out.
 
A typical case in point – some students asked me if they should indicate they completed their PSLE. 
 
What do you think?
 
Comparing your PSLE with your GCE 'O' Levels, which holds more weight? 
Resume Tip #3: Sell Yourself With The Right Language
As Asians, many of us are shy to showcase our talents and capabilities. But let me remind you – if you don't allow your resume to shine, you will never have the chance to get that dream career you want!
Words can make or break us. And often words too have the powers of persuasion. Thus, it will be good if you use persuasive language in your resume to 'sell' yourself to your prospective employer. And very often, I'm emphasizing using action verbs. 
 
Consider this: "assisted" versus "teamed up with".
 
Who wants to be a mere assistant? You are better off being a minion instead! 
 
On the contrary, the verb "teamed up with" not only gives an impression that you are resourceful to find like-minded people to work on a project, it also sends across a connotation that you are a team-player. In this new economy, no employer will want to hire a conceited, think-he-knows-it-all employee.
I love experiential learning and getting things done on the spot. That was also why I made it mandatory for students to bring along their laptops so that they could finish up their resumes before they left the lecture hall. Imagine getting your resume done, and checked personally by me…that is the real value all will walk away with at the end of today's resume writing and interview skills workshop.