Health Talk For Chung Cheng High School
Health and fitness will always hold a special place in my heart. It's not only because it has become part of my lifestyle, but more importantly, it's my roots. So when I was invited to give a health and fitness talk to the Secondary 4 graduating students of Chung Cheng High School, I agreed readily.
When you are seen as a role model for others to emulate, there is no greater privilege than this. Like many others out there, I have had my own insecurities too when I first started out. To show the students that the me back then was like many of them in the hall today, I shared with them my life story and how I overcame the odds to become the current me.
Life is never a smooth straight road. It is almost always filled with turns and twists…just like the plot of a good narrative story. And that's what makes life exciting. The weak, ugly me back then was sick of being taunted. So I took the plunge and stepped out. Slowly but gradually, with improvements to my health, my confidence also skyrocketed…and like what people always say, the rest is history.
When people have stories to share, it helps to create the emotional bond with the audience. It's about being personal. I was happy the Secondary 4 students could relate to me. Laughter resonated through the hall as the students enjoyed the candid moments. Even some of the shy boys whom I picked for the exercise demonstration needed only a few minutes to morph into bona fide 'male models' on stage.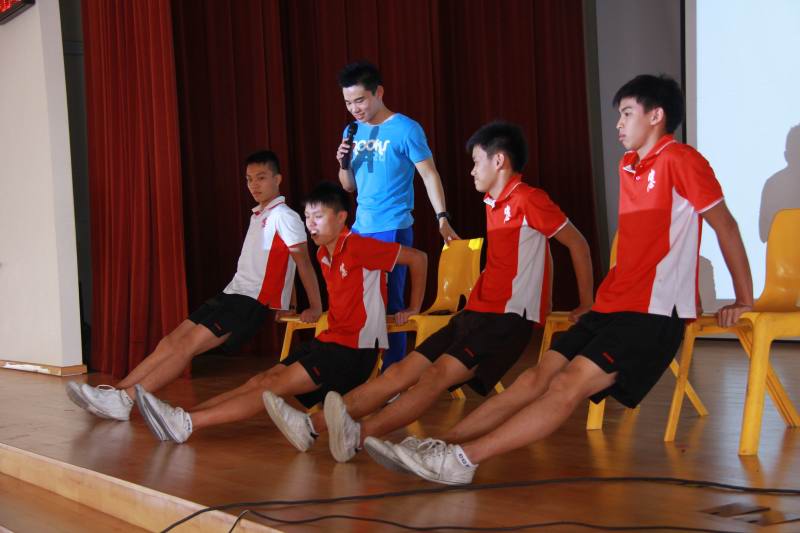 Fitness and nutrition are the twin pillars to good health. Remember, health is wealth. When your organs and body system are working well, there is so much more things you can achieve in life, many more mountains to scale and many more seas to cross. Life is worth living…only if you treat your body, which is your holy temple, in tip-top condition. I'll be happy to be your coach on your health and fitness journey…
Cheers to good health!