Health And Fitness Talk For Edgefield Secondary School
I always believe being able to share my knowledge with others is a blessing. And being able to multiply that many times and share with 320 students is a huge blessing. This was what awaited me at Edgefield Secondary School this morning.
I was invited to the school to talk to the Secondary 1 students on health and fitness.
Walking into the school hall and being introduced on stage in front of a big group felt like a far-fetched dream years ago. After all, wasn't I the shy, introverted, pock-marked face hermit?
Fast forward to today and I have shed all inhibitions and have turned my life around. Today, I stand among others in my own rights as a trainer who continues to inspire and break new grounds.
Being one of the newest kids on the block, Edgefield Secondary School recently welcomed its first batch of Secondary 1 students in 2011. In the same vein, I'm truly privileged to be a role model for the students who have chosen this school and my programme.
I recall the words of Lao Tzu, the ancient philosopher. He once famously remarked that 'a journey of a thousand miles begins with a single step.' This is so, so true.
Just like how we often hesitate to do some things because they are often low on our priority list, the same measure goes for some of us when it comes to health and fitness. Unfortunately, health and fitness is not something that we can relegate to the bottom of the list. Numerous studies have shown that the earlier we start working on our health and fitness, the more long-term benefits we will reap. Our body is the temple of our soul, where it all begins.
Twelve year old kids, being kids are so full of energy. And it's such a waste to see them waste the energy away on worthless pursuits. That was precisely why the school teachers decided to organize a health and fitness talk for them today. Indeed, the aim was to start them early on this lifelong journey so that they would appreciate their bodies better.
And children, being children, will promptly volunteer when asked to. That was what I experience first-hand when I asked them to share what they ate for breakfast this morning, dinner last night and lunch yesterday. And little did I expect that they would be so enthusiastic to want to run to the stage to share.
From her sharing and what I observed the students wrote down in their handouts, it dawned upon me that a large number of them do not have breakfast at all in the morning. This is most unfortunate as breakfast is the most important meal in the entire day. Going without breakfast is like a car running without fuel. You can still move a few steps forward but your response will be slowed down and worse, it might even stall. In the same way, as children are still growing, they definitely need all the nutrients to grow healthy and wise.
Not one to only harp on theoretical stuff, I always make it a point to further engage the participants by incorporating useful, practical exercises that they can use immediately.
First up was my demo before the students got into doing their act.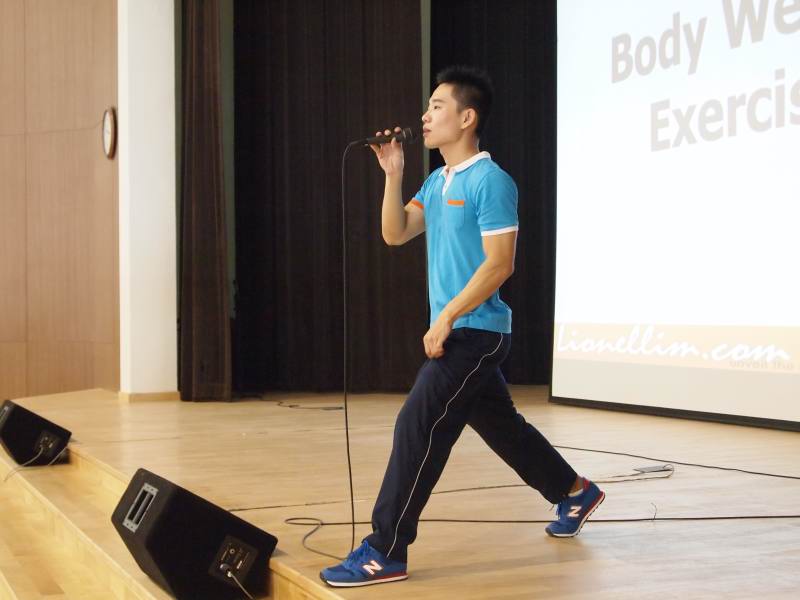 Here's a bird's eye view of the students doing their leg lifts to help tone their tummy 🙂
And for students who want to revise what they learnt today, simply login to Edgefield Secondary School's online portal and answer the health and fitness quiz there. The questions and answers are all based on my teachings today. Happy quizzing, everybody!