Health And Fitness Talk At Department Of Biological Sciences, National University Of Singapore
I'm back at the 
National University of Singapore (NUS)
 today. This time, it's at the invitation of the Department of Biological Sciences (DBS) at the Faculty of Science. It's the annual DBS Safety and Health Day 2011. 
Already into its third year of inception, the event brings together staff and students from the department in a bid to reinforce the importance of observing workplace safety. This is not surprising as most of us spend most of our waking hours at work. What makes it even more important for the staff and students at DBS is the fact that a large number of them work in laboratories and handle chemicals. Any spillage would result in serious consequences.
This year, the committee decided to include a special segment into the programme and here I am today with one of my signature health and fitness talks "Quality Lifestyle, Quality Performance."
Customised to address the concerns of most people who list no time, lack of knowledge and high cost involved for not adopting a healthy lifestyle; it was an eye-opener for the crowd.
Many a times in life, it's not about sharing difficult or profound concepts. Rather, it is simplifying concepts into simple to follow steps so that everyone can participate and integrate into their everyday lives. That to me, is the true worth of my sharing today.
And in the same manner as all my other talks and workshops, there will definitely be a practical aspect to it. Just listening to me talk is not enough as the participants must get involved as well. Once the body is involved, the mind will remember better 🙂
I love the energy of the audience as they didn't need cajoling. In fact, once someone got up, the next one followed and it was easy to motivate them to move their bodies along to the bodyweight exercises I introduced. For photography purposes, I even invited them to come down to the first row of seats. And they obliged!
Including a special segment on back pain management, it was uplifting to see this was also much appreciated by the audience as they spent long hours in the lab space or in the cubicles hurrying over the tight deadlines and projects.
All work and no play makes Jack a dull boy. And so as the saying goes, Lionel invites them to play. And play they did when all received a free massage complimentary of their colleague! It was so invigorating that I had to ask them to stop, less they continued to the end of the talk.
And the sharing of knowledge also included useful tips on how to do self-massage and stretching by focusing on the accupressure points.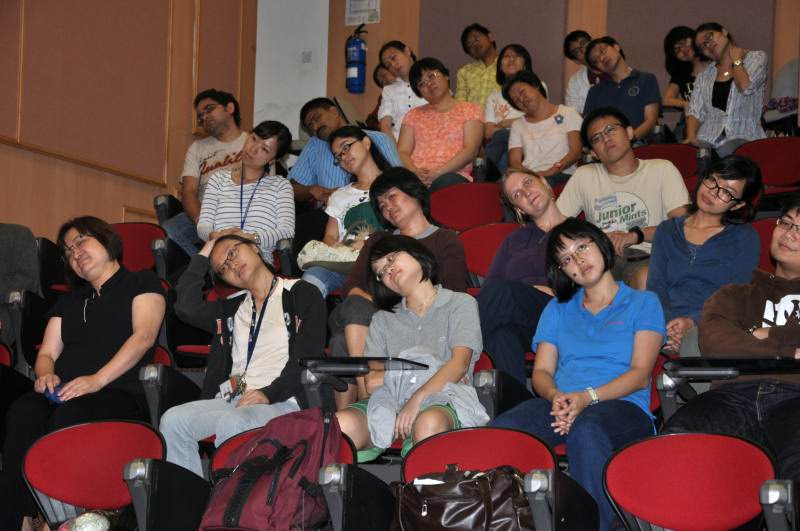 I had fun, and I'm certain the audience too did, judging from the smiles, laughter and light-heartedness in the air. In fact, just to quote the head of department who also graced the event, he was envious I got them to do stuff he couldn't. And like what he shared too in his closing address, the department that exercises together stays together 🙂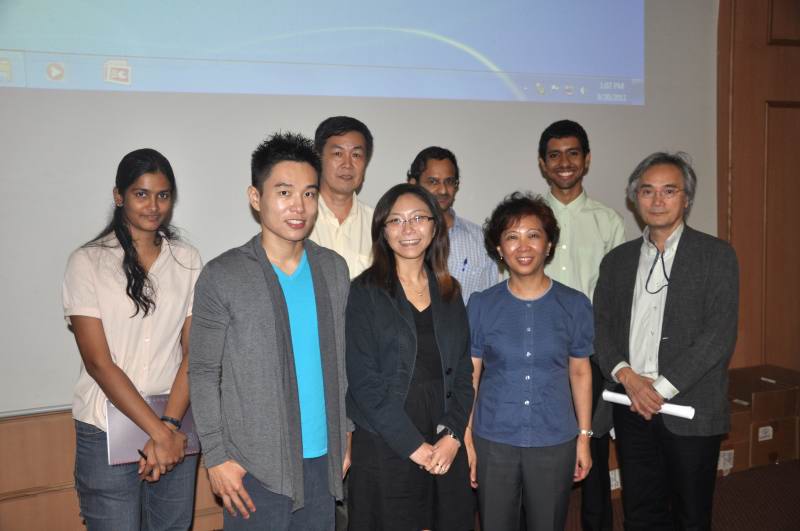 With the Head of Department of Dept of Biological Sciences & the DBS Safety & Health Committee 2011