Hair And Makeup Workshop For Ce La Vi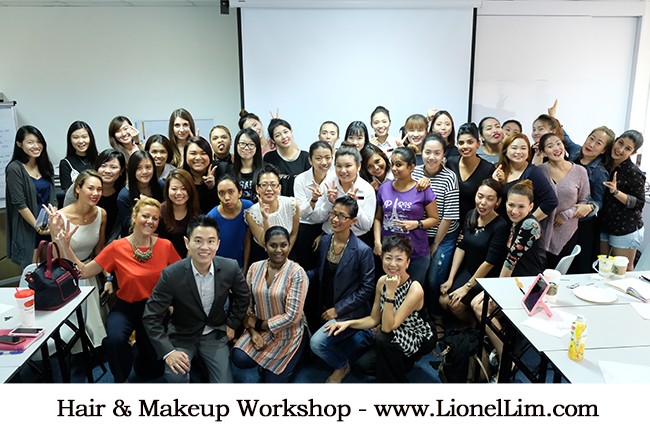 Perched on the 57th floor of the swanky Marina Bay Sands, one literally gets a panoramic view of the entire Singapore skyline from way up here. Welcome to Ce La Vi – often regarded as one of Asia's finest entertainment destination.
And here I am today, honored to be doing a hair and makeup workshop for the service staff of Ce La Vi. The ladies were a fun and energetic lot to train. You go girls!
Image plays an important part in any industry. In the service industry especially, image matters a great deal.
So here are the 3 takeaway lessons from today's hair and makeup workshop.
#1: Creating A Corporate Image
Customers will always buy the image first (i.e. they identify with it, they develop feeling for it etc) before they willingly spend on the food, booze, products and other services.
If they can identify with the brand image and the brand language, it is not difficult to get them to become big spenders.
In this regard, as we are dealing two entities – the restaurant and the club; creating a corporate image would have to address both the unique day and night conditions.
As the club is open air, humidity and the sun are the major considering factors in the daytime. When night falls, the winds can get rather strong.
So our first task as to create a simple, yet fuss-free look for the girls – one that would allow them to transit seamlessly from day to night.
Say hello to the bun.
Buns are classic, elegant and best of all, easy to put into place. All you need are some poppy pins and your nimble fingers.
After brushing your hair to remove all the tangled ends, pull the hair back together and select the place where you would like to set the bun head. Then continue twirling your hair around, using the long end of a hair brush to gather the loose ends into the bun. Firmly secure your bun with the help of poppy pins.
A bun done in less than 5 minutes!
#2: Maintaining Your Individual Personality
Even though there is a corporate uniform for the club girls, that doesn't mean you cannot inject your own individual personality into your dressing.
Just think accessories.
I consider accessories as the finishing touch to the overall image. They should be simple and yet elegant.
Do not have more than 8 accessories on you, risk you be labelled a walking Christmas tree. The cardinal rule when wearing accessories is always this – choose one statement piece (eg. necklace or earrings). The statement piece should be the main focal point.
That's because if you bling here, bling there and bling everywhere, others will be too distracted to even bother to focus on you.
#3: Adding Colour To The Face
Forget about showing your bare face to your client. That just doesn't cut it in the service industry.
To thrive in this industry, it is mandatory for all girls to wear makeup. Not dramatic makeup ala Lady Gaga. Definitely something more normal.
The makeup for the daytime should give you a matt look. After all, Singapore's humidity tends to make one perspire loads. And a sweaty-looking service staff is definitely not going to score any brownie points for the club.
When night descends, you would want to, with a few strokes of the makeup brushes, transform the day look to a night look. Think a little glitter or glam. Night time is also when people swing by the nightclub to party, drink and dine. So this fits perfectly well with the overall image.
So there you have it – the 3 takeaway tips gleaned from today's workshop. Remember, as long as you practice, you too will become a pro in no time =)