Grooming Workshop For ITE College Central Tampines Campus
It feels like we are old friends sharing a special bond between us. How else can you explain the close relationship between ITE College and myself? Besides being an adjunct trainer with ITEES, this is my second grooming workshop for ITE College Central.
For those of you who have been following my blog, you will remember my last gig at ITE College Central was at its MacPherson Campus for the Student Icons Programme. But for today, I'm invited to ITE Tampines Campus to conduct a 2 hour workshop for the business and engineering students. This is one of the new initiatives under the Lifeskills Programme which has been implemented in most educational institutions.
Stepping into the auditorium, it was great seeing the students, both boys and girls, eager and ready to start the session!
Remember the good old school days when students filled the back rows in the lecture theatres first? No, I didn't get this phenomenon today. Instead, it was a pleasant surprise to see the front row, even the first row filled first 🙂


This is perhaps the best form of encouragement to any trainer as it signals the students' willingness to learn and openness to accept challenges.
True to form, when it was time for them to discuss in the activities segments, the enthusiasm of the students was evident. The boys, in particular, were extra participative! Kudos! Some even asked me if they had to hand in their answers which they wrote on their lecture pads eagerly. I had to reassure them that I wasn't their lecturer and all they had to do was to discuss, have fun, enjoy the session and extract maximum value from it.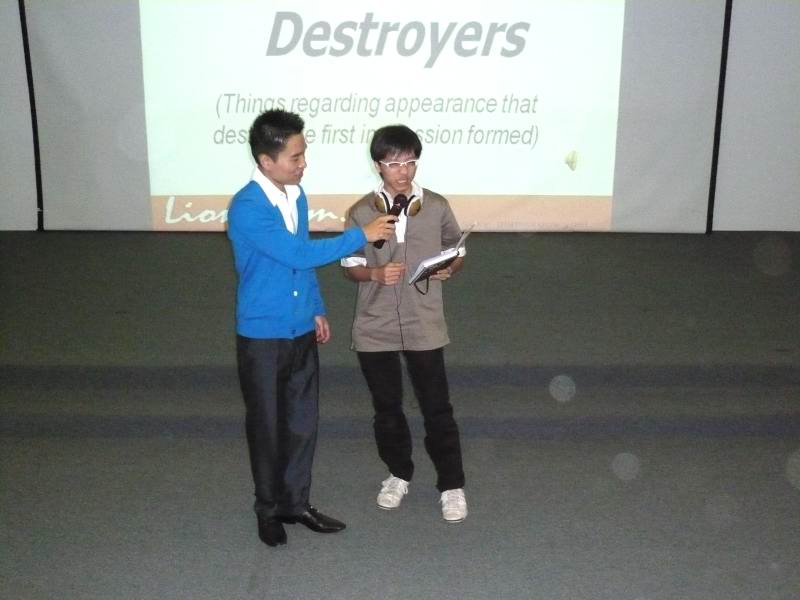 Getting volunteers for the facial shape segment proved to be a memorable affair as both participants, who looked rather similar, stepped forward. Cheered on by the crowd, they presented their faces for examination. The audience, needless to say, didn't have to do a double take for too long as both examinations yielded the same result.


And as the saying goes, all good things must come to an end. So too must my sharing during the last 2 hours. But for the 80 plus students who spent their afternoon with me, it was only the beginning of their personal grooming journey! Have fun everyone 🙂