Fish Spa Hand Treatment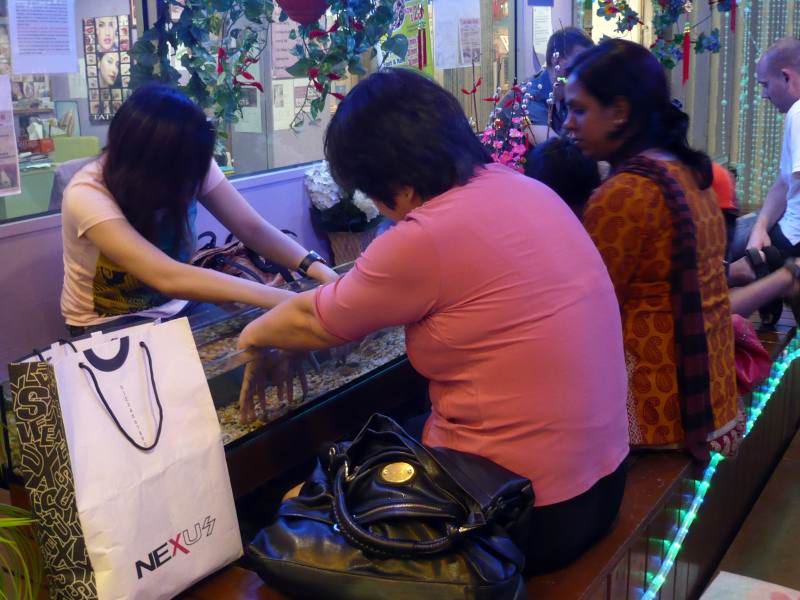 The fish spa treatment is not something new. A novel spa treatment said to originate with the doctor fish in Turkey, it's been around town for a couple of years. Basically what you do is to soak your feet in an aquarium of fishes who will then start to 'work' religiously on your feet. Yes, it will be sooner than you think when different schools of fish start nibbling on the dead skin cells by crapping their tiny mouths against your skin. Think of it like using a facial scrub or going for demabrasion but this time it's exfoliation done the natural way. 
The best part of it is that you become food for the fishes as it's amusing how hungry the fishes are as they swim towards you. It's no secret that the owners don't feed them too often, less they not do their job. And all this nibbling action cum massage is supposed to reveal smoother and healthier skin. 
But if you think the fishes are only content to be nibbling away at your dead skin cells on your feet, think again. A particular fish spa shop in Singapore has now creatively introduced the fish spa hand treatment.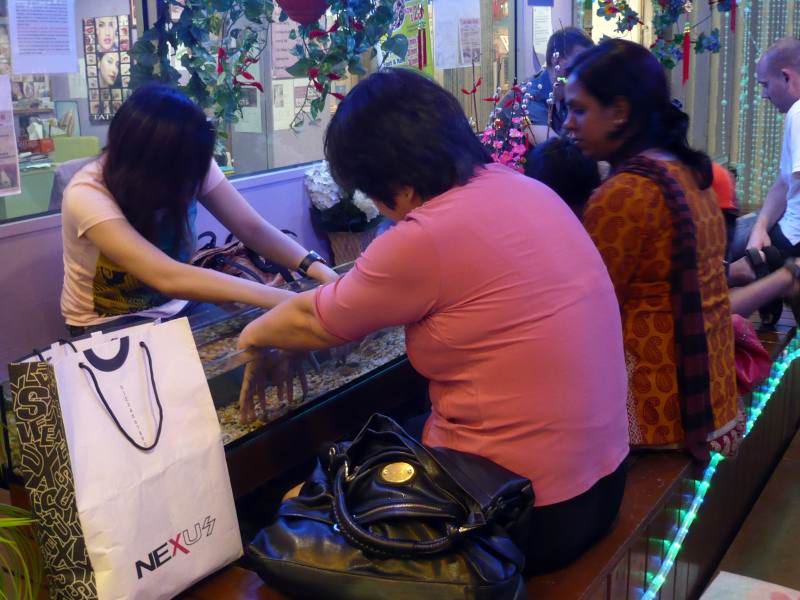 Looking at the both the locals and tourists in the small crammed shop seated on a neon-lighted wooden bench brought back the good old school days of sitting obediently on the tuckshop bench during recess time. The only difference was that everybody happily inserted all ten fingers into a long pond of water filled with the doctor fish. And judging from their bemused looks, I bet all were enjoying such a sight of watching the fishes swim towards their fingers and start nibbling away at the dead skin cells. Are you about to become fish food? Haha…
Who says you should only be doing your medicures and pedicures these days? Throw in a fish spa hand treatment as well to pamper yourselves and reward your often overworked hands to reveal younger, smoother skin 🙂