Eliminating Back Pain Talk At First Gulf Bank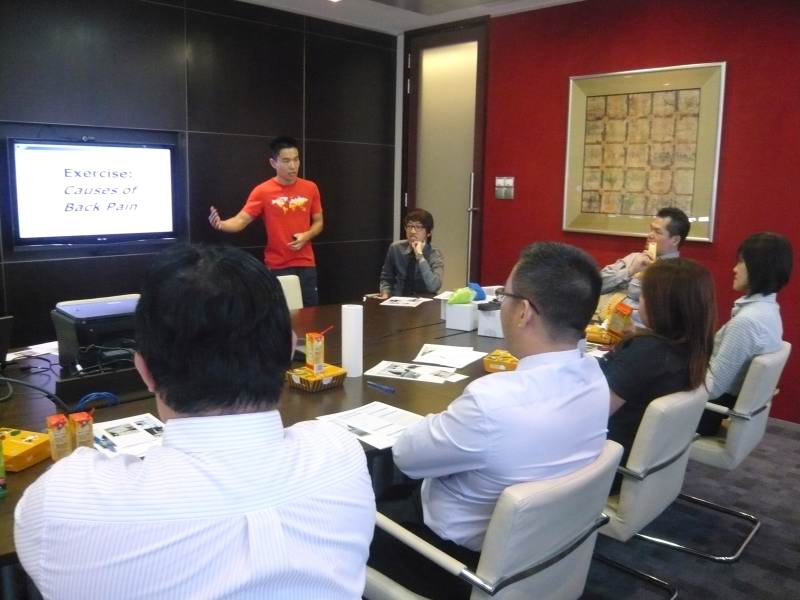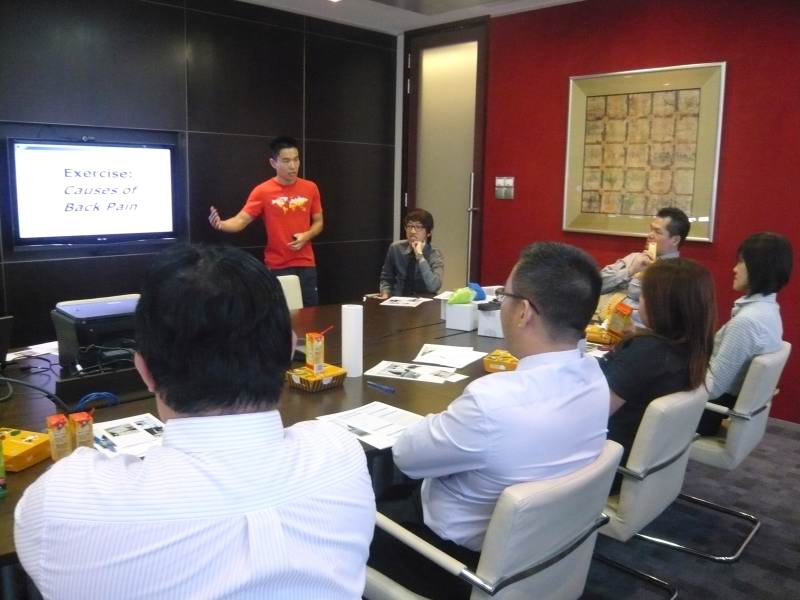 I'm back at Raffles Place today, walking among the hustle and bustle of the lunch crowd. And I'm headed for First Gulf Bank, located at UOB Plaza to give a talk on 'Eliminating Back Pain'.
One of my health and fitness talk topics, companies wanting to help their staff better handle back pain issues have been on the rise lately. This is not surprising as most of our waking hours are spent in the office – think typing away furiously at our desktops or laptops; carrying heavy meeting files or that briefcase; or our tendency to slouch in our chairs when we sit. Whatever the reason is, I was glad to witness the enthusiasm of the small but energetic crowd today.
In life, there will always be people who choose to go for their lunch or shop around town. But there will always also be people who will be more than willing to better invest their time to learn new skills and acquire new knowledge. I truly applaud the second group of people. That's because when we continue to learn, we continue to grow.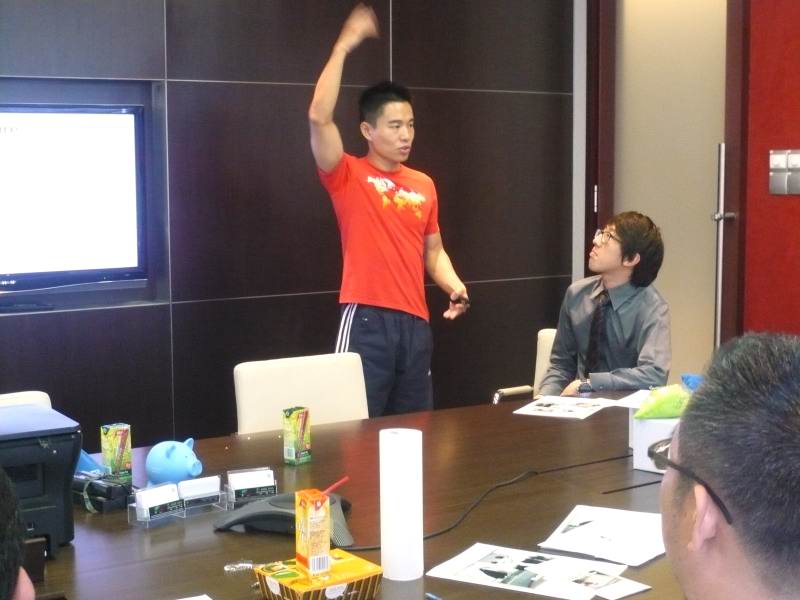 Standing in the boardroom dressed in comfy gym wear and seeing the rest in executive wear (some of the men were in ties as well) brought back memories of the past. I was once like them working in a similar environment.  I can relate to back pain very well as long hours of sitting in front of the computer and rushing tight deadlines were the twin evils that gave me stiff shoulders, aches and pains.
But if you think back pain cannot be cured by yourself, think again. Unless it is a chronic back pain which lasts for more than 12 weeks, normal back pain can be and should be healed naturally.
It is the worst kept secret that our lower backs and necks are often the victims.
I would recommend the right stretching exercises to loosen up the muscles and further prescribe gym exercises to strengthen the weakened back. With a combination of the right methods, one can definitely kiss neck pain goodbye.


To show how easy it was, I got the group to massage their colleagues. Initially, all were hesitant and shy. But once someone got into massage mode and started squeezing the shoulder blades (which are one of the most strained areas of our back), others followed suit. When it came to round two of massage, all I could see were smiling faces and compliments of how comfortable it felt.
Just by giving each other a massage or simply rotating your shoulder blades, one is already on the way to eliminating neck pain.
Have fun practising your new skills, everybody 🙂