Dining Etiquette Workshop For NUS High School of Mathematics and Science
We are honoured to partner NUS High School of Mathematics and Science again this year for the dining etiquette workshop. Since the successful run last year, we have all been looking forward to a new batch of graduating students and a brand new menu.
In today's context, dining is more than just the food. It is the entire package that matters. Think ambience, dressing up, food presentation, company around the same table, silverware finesse, small talk and much more. Thus no efforts were spared to make tonight's dining etiquette workshop a resounding success so as to give the students an experience they will always remember.
 
Welcoming the students at 6pm, the ballroom was soon filled with 19 tables of students, many of whom were dressed up for tonight's special dinner. It was a delight to see the guys sit the ladies down at the tables. Naturally excited as many would be, there was banter around the tables and considerable movements too as students from different classes were all eager to take selfies and photos with one another.
 
Before dinner commenced officially, I shared some simple, yet effective tips on how each could impress at the dining table. Whether it is business or a simple gathering, learning how to bring out the best in each and every one of us is dependent on us having the right attitude, dining etiquette and proper table manners. This is the holy trinity of successful dining skills.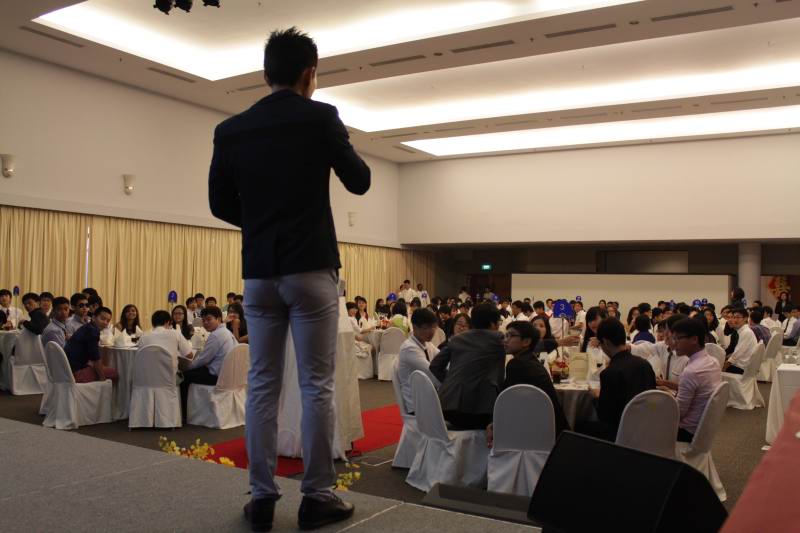 Much as we know a lot of effort was put in the chef in preparing the delectable three-course dinner meal for tonight's dining etiquette workshop, so too must we do our utmost best in being good guests who genuinely enjoy one another's company, relish in the communication and soak in the grand ambience.
 
Enter the appetizer – a generous serving of mixed garden greens. Trust me – there's something healthy behind this bowl of mixed garden greens, especially when it's fresh and void of dressing. 
 
This was followed by the entrée. The students were given the option to choose between oven baked chicken roulade or pan fried barramundi fish with lemon butter. It was indeed a difficult choice to choose as both were indeed heavenly.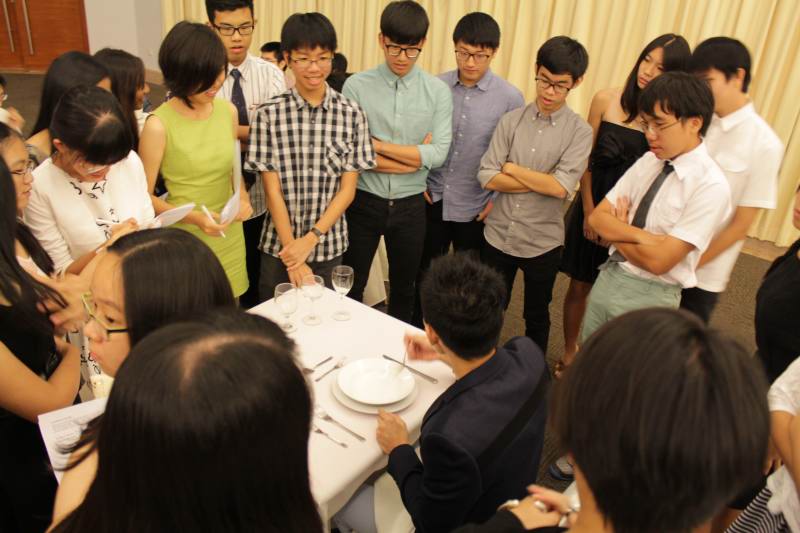 In between the different meal courses, I decided to spice things up by including a Best Dressed segment – an initiative brought over from last year owing to overwhelming positive response. To up the standards this year, I brought along a professional photograph who gave each Best Dressed nominee and thereafter Best Dressed couple nominee a photoshoot. Initially shy, the nominees all warmed up slowly and gamely played on.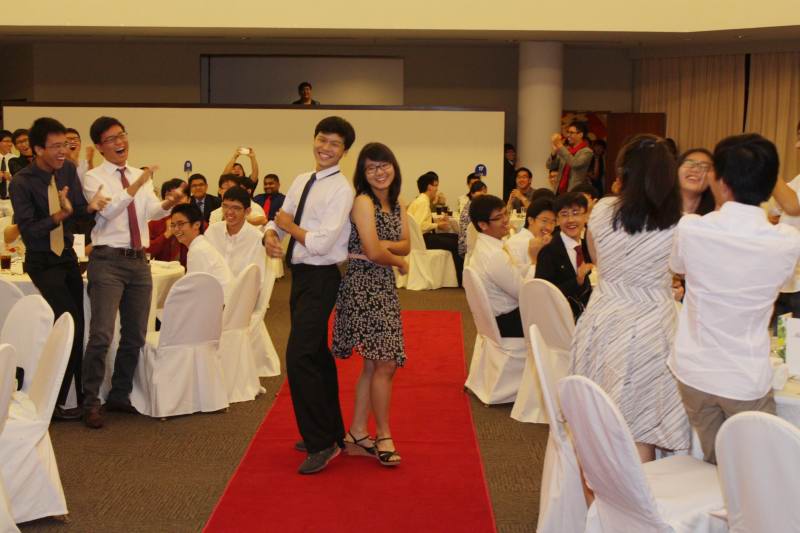 And before dessert was served, the Best Dressed competition commenced. Amid the cheers and claps of encouragement, the couples marched in on the red carpet. A sight to behold, they took pains to pose and this sent the ballroom into a frenzy as each class attempted to outdo the rest. On stage to pitch for why the entire NUS High cohort should vote for them as Best Dressed Guy or Best Dressed Girl, I gave each student air-time. From their short presentation, I really marvel at their intelligence, wittiness and creativity…some of which had the entire cohort in laughter stitches.
 
As the night lingered on, it was time to say adieu. Even after more photos (and at my insistence, a group photo for each class on stage) later, the students were still reluctant to leave. Who would want to? 
 
The teachers had to cajole and coax the students as the chartered buses were ready to ferry them back. Goodbye NUS High. Well done students. I really enjoyed myself being your trainer and emcee. And I look forward to receiving another batch of students next year.