Corporate Grooming Talk For Hitachi Asia
I'm at Hitachi Asia for a corporate grooming talk today. A stone's throw away from the Tampines bus interchange lies Tampines Grande which houses Hitachi Asia. And now all eyes are on both the staff and myself in the Alive Room.
If you ask me what makes training fun, I would say it is the energy of the room and the willingness to participate regardless of what challenges you throw the audience. All these and more secret ingredients I found in the Hitachi staff today. In fact, I could not have asked for more as they really made me feel at home. Very sweet of them! No wonder I too felt like sharing more with them and was reluctant to hand over the microphone…
So, instead of the conventions that I normally share, today I learnt that in the minds of some seated in the room, the ideal body shape for men was the round shape. Perhaps it's because there's more to hug? LOL…And under this new scenario, I guess all the inverted triangles must now step aside and bow their heads shyly while their rounded counterparts bask in full glory.
And speaking of full glory, I think it must be the onslaught of superhero movies coming to our screen – think Thor, and subsequently Captain America and Green Lantern. Not the superhero per se but the actors behind these superheroes. With their beefed up physique and ripped muscles, no wonder some of the ladies in the room today went gaga and suggested that inverted triangle men not wear anything when I touched on the different types of clothing most suitable for the different body shapes.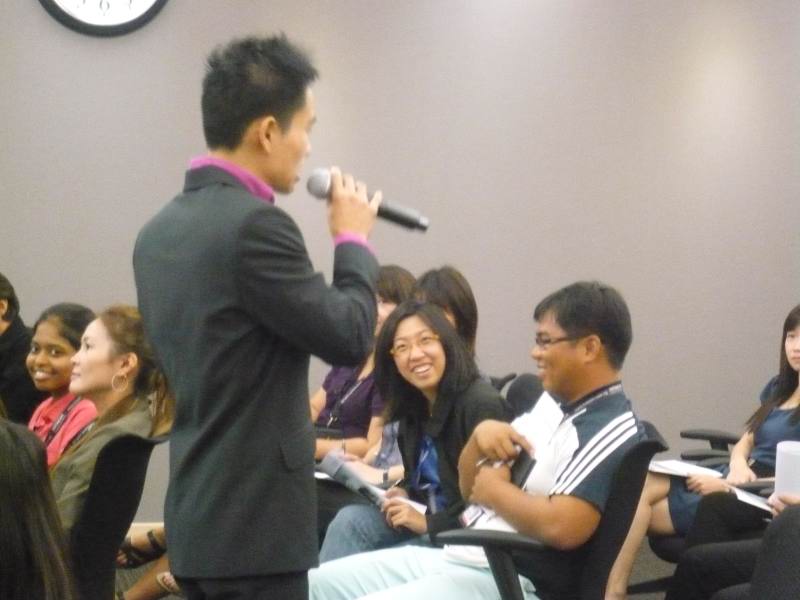 Of course, the ladies too had their share of the moment when I presented the wardrobe choices most suitable for the various female body shapes. I believe none of the participants will look at clothes the same way they have been seeing them ever again. Clothes are not just pieces of garments wrapped around us. We wear the clothes and not the clothes wear us. That's why if we choose the right types of clothes to wear, it not only flatters our body shape, but also boosts our self confidence!