8 Days Shirtless Guy Of The Week – Lionel Lim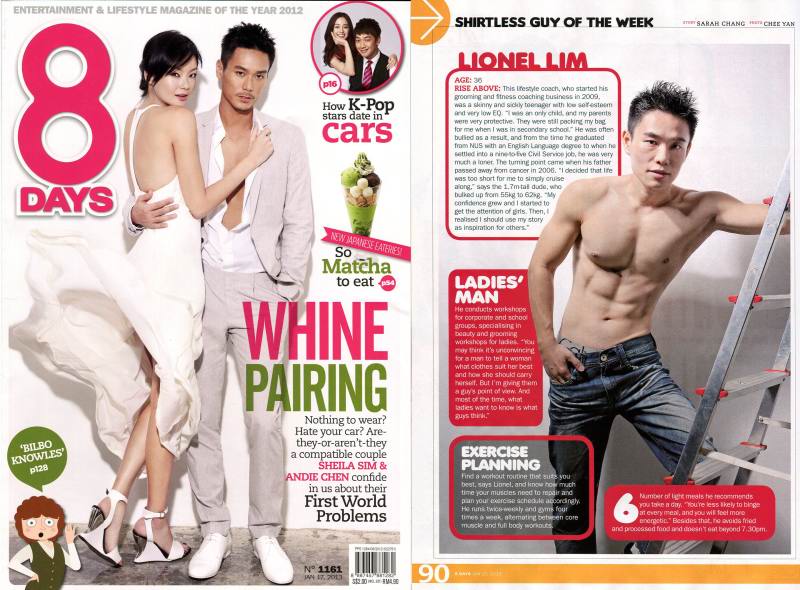 It's Singapore's best-selling English language magazine all these years. It's also the magazine I grew up reading for the latest entertainment news in town and around the globe. Who can forget the jingle that goes "8 Days every week"?
So when 8 Days magazine came knocking, I said yes!
Do not blink your eyes as I'm your 8 Days Shirtless Guy of The Week.
As its name suggests, there are no prizes for guessing it's a topless shoot. If you ask me what a guy should look out for when doing a frontal topless shoot, I'll say there are three particular areas – namely the chest, shoulders and abs. The chest and shoulders have to be buffed up while the abs has to be lean and toned. Of course, there's also the smile to remember – whether it is a full smile or half a smile.
This is not my first time shooting topless. But I have to say I really enjoyed the shoot as it was a short, focused and enjoyable one. Plus no two photoshoots are the same. A different photographer brings with him or her a different set of lenses through which the subject comes alive. For me this time, I had an additional prop in the form of a ladder. Haha…
Fitness will always hold a special place in my heart as my roots were in fitness. For the record, I started out as a personal trainer in 2008 before expanding my business to include workshops in 2010 and products in 2012.
As an icebreaker, I was asked to share about what I did for a living. That morphed me into being labeled a "ladies' man"…Haha…I guess that's because the majority of my participants attending my grooming workshops are ladies…
And like what I shared with the reporter in the interview after the photoshoot, it does take a bit of effort to keep in good shape. There's no denying the thrice weekly gym workouts and careful meal selection. But trust me, the benefits hugely outweigh the time you invest in yourself. Health is wealth.
Cheers to good health in the new year!