6 Tips To Survive Your Valentine's Day Dinner Eating Out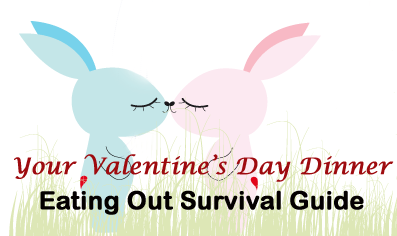 How quickly time passes by…It was only Christmas some weeks back, followed by New Year 2011, then the recent Chinese New Year…And guess what? We are now going to celebrate Valentine's Day in just a few days' time!
Do you remember how you celebrated Valentine's Day last year? You probably had a sumptuous meal at a restaurant and bought each other presents…and possibly renewed your love vows.
In the spirit of Valentine's Day where love is in the air, here's to show I love all my readers too by spreading my love in the form of knowledge to all of you. Whether or not you will be spending Valentine's Day with your significant other or with close friends, just be mindful of that this piece is for you. Yes, it's my pre V-Day present to everyone! Here comes the Valentine's Day dinner eating our survival guide. Read on and help to spread the love 🙂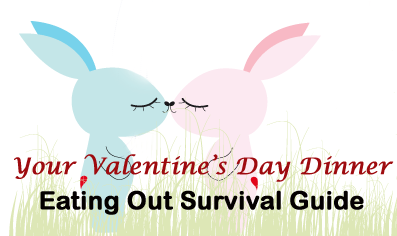 It's Valentine's Day! And whether you know it or not subconsciously, it's a day worth celebrating with your loved one. You may be saying to yourself that if you're going to spend all that money on dinner, get dressed up a little, and dine out, you want to get your money's worth. Well, at least the majority of us think this way as we all want to stretch our dollar!
Yet pause for a second and think again…you probably will be in a more joyous mood to enjoy the moment if you focus your thoughts on enjoying the ambiance (with the candle on the table complete with some red roses and a violinist serenading you), the amorous company, the luxury of being served and poring over the special Valentine's Day dinner set choices.
If you can think of these perks, then you will not be tempted to try to get the biggest steak, even if it's cheaper than the smaller salmon. Remember, regardless of what programme you are now – weight loss or muscle building, the aim is to be the same. You need to be consistent in your meals and not use Valentine's Day as an excuse to binge or go off-tangent.
Here's 6 of my Valentine's Day dinner eating our survival tips to keep the calories low on the special day.
Tip 1: Do Not Upsize It
Some restaurants will attempt to milk more money out of you by asking you to top up your order to that of a set meal by throwing in starters, drinks and even desserts. STOP!
If you've been to that restaurant before and you know how big the portions are (some Western restaurants have not acclimatised their dishes to the Asian food palette and still serve huge portions of food), ask the service staff to half the potatoes or rice. 
Tip 2: Ask And It Shall Be Given
I'm sure most of you have heard of this saying "knock and the door will be opened, ask and you shall be given."
It's not that you are being thick-skinned by asking for more. On the contrary, almost all restaurants will be more than happy to give you extra vegetables instead of side dishes like potatoes and rice. So do not be shy…Just ask!
Tip 3: Start Off Your Drink With A Glass Of Water
I know there's reason for celebrating as it's Valentine's Day after all. But for you to avoid the pressure of having alcoholic beverages and other caloric drinks, mentally programme yourself that you will start with a glass of water.
If you start by ordering a glass of water (it's free anyway in most restaurants…unless those which serve you Evian water of course), the perception that you have given the sales staff is that there's still a high chance they can upsell you on a more expensive drink later. 
But what happens if you have started drinking the water while waiting for your food to arrive? You would have filled yourself up, leaving your tummy no more space for that alcoholic drink.
Tip 4: Share Your Food
Just like what we share our love and shower concern on each other, it makes perfect sense to share your food too. Two people can share an appetizer and a main course (or even just a main course). This way both of you can have a couple different things without breaking the calorie budget (and the wallet budget!). Nowadays just about any entrée in most estaurants is usually more than enough food for two people anyway; restaurants just tend to over serve to satisfy their customers.
Tip 5: Don't Drink Your Calories
Five hundred calories of juice can go down in seconds without filling you up at all. Now that's an awful waste. Wouldn't you rather have a juicy piece of meat or a huge salad?
Drinking calories will never satisfy hunger but it sure will put the breaks on your weight loss progress. If you really need to have something to drink that has some taste or flavour to it, try to keep it to diet drinks, or coffee's and tea's with minimal milk, creamer or sugar.
Tip 6: Drink A Wine Instead
When other people are indulging in very high calorie sinful dessert you can skip the dessert and instead opt for a glass of wine or another drink. In this way, you won't get pressured into having a 700 calorie dessert, but instead you can get away with 200 calories or so with a glass of wine. Another plus point is that it's more socially acceptable to leave behind a few sips of wine compared to a few bites of dessert! Remember, first impressions matter!
Happy Valentine's 🙂