5 Tips To Survive Your Summer Holiday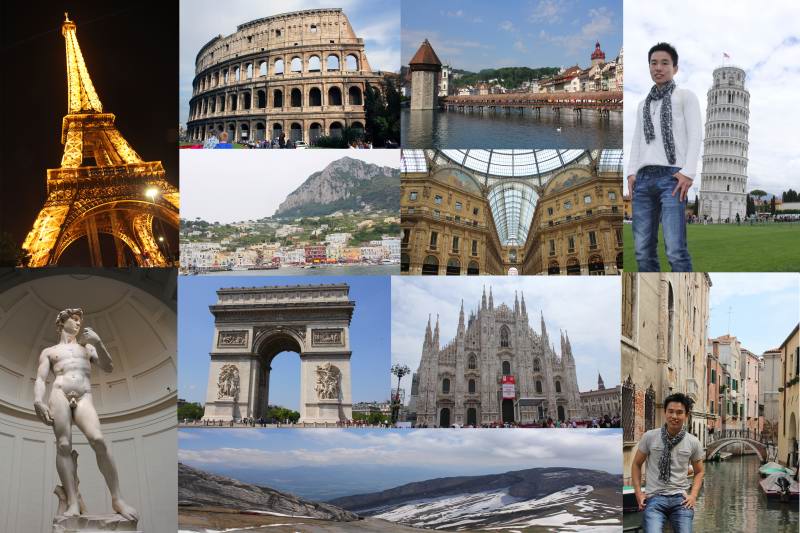 Apologies for the long absence. Did anyone miss me?
Well, I'm back! Yes, I'm back from a 16 day break from Europe.
This is my first long break in 3.5 years. You can say it's long overdue. The number of days notwithstanding, there were many lessons I learnt from this trip through Italy, Switzerland and France during this summer holiday. I'll be happy to share my five survival tips with you now.
Tip No 1: Remember To Moisturise
Transiting from hot and humid Singapore to summer season in Europe, I never felt the greater need to moisturise than now. By moisturise, I mean to moisturise both your skin and body. You don't want to end up with scaly and dry skin.
The first few days after taking the bath, I immediately felt the effects of the water. In Europe, they call the water 'hard water'.
After I stepped out of the shower, my skin hungered for moisture as it felt very, very dry. It's even worse than the oxygen in the airplane. It was little wonder I finished up the entire bottle of moisturiser I brought along.
If that was not bad enough, consider this. My lips too were spared any cracking thanks to the lipbalm I generously applied.
Tip No 2: Apply Your Sunblock
As a first-timer to these European cities, there were a lot of sights I planned to see. I guess that's the mission of most people too as they attempt to fill their itinerary to the max.
Planning the sights to see is one thing. Getting there is another thing altogether. Trust me, there's a lot a lot of walking to do just to see the attractions from one location to another. In Rome in particular, I walked till my feet were sore.
Besides the attractions, there's also the shopping to consider, both along the streets and in the malls.
Gist of the story? Never leave your hotel without applying your sunblock as it's summer now and the heat can get unbearably hot. And bring along a pair of good sunshades.
Tip No 3: Hydrate Constantly
Yes, it's summer time now but because of climate change, temperatures fluctuate greatly from city to city. It can get very hot during the day yet chillingly cold in the evening. And because the staple food is all pizza and fried stuff, it's even more important to take sips of water at regular intervals to prevent falling sick or getting a sore throat.
I tried boiling water in my hotel room while in Italy but all I got after the water boiled was a layer of oil on top of it. Yes, the water in Italy is undrinkable. So I resorted to drinking mineral water for the rest of my trip instead.
I jumped for joy when I found Chinese eateries. Even though the standard of food offered was a far cry from what we get locally, but at least, it was a refreshing change from the normal staples seen in the shops and offered during the hotel breakfast.
Tip No 4: No Airconditioning
Yes, you didn't read me wrong. No airconditioning. At least in my hotel room. It's bad for your bones as aircon makes them stiff and makes your skin dry. Worse, having the aircon unit turned on in the room makes you want to continue sleeping under the comfortable sheets for a much longer period of time. And that defeats the purpose of a holiday!
Tip No 5: Keep Your Spirits High
Things may not always go your way. In my case, trains got delayed. Once it was even cancelled without any prior announcement. I got lost in many alleys while trying to navigate my way through the cities. Lastly, there was also the language barrier in Italy and France (especially) as not long spoke English. But let your hair down and don't feel stressed. All these and more are in the name of having a fun-tastic holiday 🙂
And of course, here's sharing with all of you some of the amazing sights I've seen during this summer holiday in this collage…Enjoy!