3 Tips To Dressing Professionally For Teachers: Grooming Talk At ACJC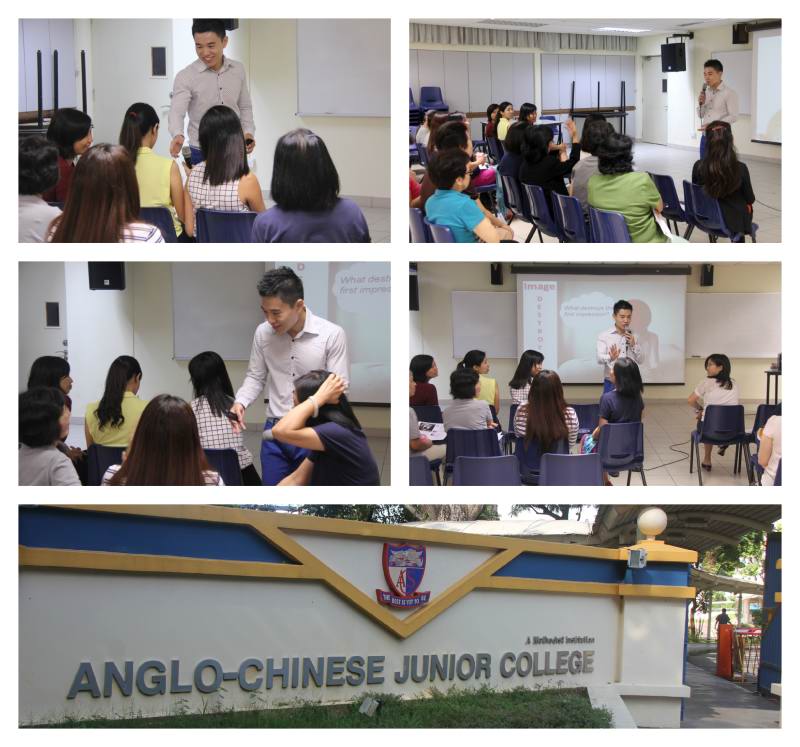 I remember the days when I was still a student back in school. A teacher was like a parent. And the number of hours I spent in school (including both the normal curriculum and core curriculum activities) was sometimes even longer than when I saw my own parents.
 
As teachers instruct and share knowledge, they also play the role of motivators and educators to their students. As students, we always look up to our teachers as role models. Till this day, I am still grateful to all my ex-teachers who have taught me important values in life. 
 
So it is with this sense of gratitude that I enter the gates of Anglo-Chinese Junior College (ACJC) as I am invited to give a grooming talk to the teachers.
 
Yes it's the school holidays but for this select group of teaches who have taken the effort to come back to campus grounds to learn, I salute them.
 
Much as teachers set an example to students as far as character building is concerned, I'm sure you will also agree with me that school teachers must set an example in grooming and etiquette too. 
 
Imagine if a teacher shows up in class looking disheveled, sloppy or inappropriately dressed, he or she will immediately become the talk of the entire school. 
 
Grooming for teachers differs from grooming for students. This is because students need to wear the school uniform and adhere to the school rules (with regard to length of hair, skirt, accessories etc). This, however, does not apply to teachers.
 
I have male school teacher friends who shared with me that as long as they turn up in a shirt (it can be long or short-sleeved) and pants, it's considered acceptable. For female teachers, they definitely have to cover up. So no plunging necklines, a neck full of accessories, heavy perfume, see-through pieces or Afro hairstyles. As long as teachers dressed appropriately, it would be acceptable.
 
If you always thought teachers to be strict, you have to really erase that notion. Truth be said that the teachers who sat in for my grooming talk were fun-loving, self-deprecating and ever so keen to learn new dressing tips.
 
Less you think all teachers should dress in a standard manner, let me share 3 tips that all teachers and educators should take heed to boost your image quotient. Now, who said teachers cannot be style icons? 
Tip #1: Comfort Is Key
As teachers work long hours (with remedials, meetings and other special projects thrown in), dressing comfortably is definitely the key. You wouldn't want to create an impression in your towering heels only to suffer from sore calves when you get back home.
For men, nothing too loose-fitting (don't you even exercise, teacher?) and yet nothing too muscle-fitting (are you an A&F model, teacher?). In Singapore's hot and humid weather, short-sleeved shirts are fine. But always tuck them in.
Tip #2: Professionalism Is A Close Second
 
Always remember your mission is to mould the next generation of young minds and talents. 
 
As I have shared many times in my other blog posts, always dress professionally for the occasion, audience and image you want to project.
 
A professional teacher will have some simple makeup on – think powder and blusher. For some added colour, she may use a lipstick (not crimson red or deadly black). But she will ditch the mascara and false eyelashers simply because she is not Lady Gaga. Much as students nowadays lament how stressful school has become, I personally feel teachers could help alleviate the stress factor by wearing colours on their face. 
 
For male teachers, you will use some hair products for your mane – think either wax or gel. But you will spare your hair follicles of hair spray, gum or mud. And polish your leather shoes – they are supposed to be either black or brown.
Tip #3: Expressing Your Individual Personality Is Acceptable
 
Like what I wrote earlier, there is no need for all teachers to look alike or dress similarly. We are not in the North Korea regime where everyone has to follow the Leader's bowl-like hair or grey hues. 
 
If teachers wish to express their individual personality through their dressing, they are certainly welcome to. In fact, I would strongly encourage teachers to start thinking what fashion look suits them best. This of course boils down to choosing the right styles, shapes and colours. In the grooming universe, this is the holy trinity that one must follow.
If you want to express your individual personality yet you are in doubt, I would suggest you stick to classical styles and colours as they tend to trend on the safer sides. It's kind of risky if you play with colours unless you have attended my colour analysis workshops previously.
So there you have it. Follow my three tips to dressing professionally as a teacher and I'm sure you will be putting your best foot forward, gaining the respect of your students and approaching each day with confidence.