3 Reasons Why Every Man Should Have A Checked Shirt In His Wardrobe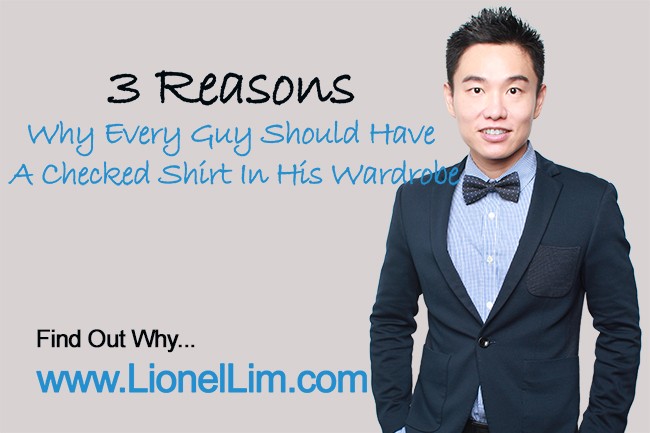 Ok, I have a personal confession to make.
I have found a new love.
No, don't worry – I'm not about to switch industries any time. I'm still happy being an image consultant and helping others through my grooming workshops.
The personal confession I would like to make is that I've been stocking up on checked shirts in the last year. Well, the last I counted I have 7 checked shirts. And I'm sure the number will increase.
You may ask why I'm going gaga over checked shirts.
Well, as Shakespeare once said, "there is method behind the madness". Indeed.
Similarly, there are 3 reasons why every guy should have a checked shirt in his wardrobe. In fact, it is part of my wardrobe staple and I'm positive you will embrace it soon (if you don't already own one).
#1: It Is The Perfect Foil To The Solid Coloured Shirt
We all know guy's fashion can be pretty limited. In fact, this is sad but true.
Almost all the guys I meet wear solid coloured shirts. Yes, a solid block of colour is always safe. Think white, blue or grey – which are the three most common colours a guy will wear.
Although a solid coloured shirt is always safe, it can get boring after a while. Imagine walking along the streets or working in an office where all the guys look as though they have just walked out from the same factory or production house. You certainly don't want to see as a clone of another guy.
Nobody will notice plain James because you are blending into the crowd and not standing out. Recall I talked about the need to create a unique brand image in some of my earlier blogs.
#2: It Is The Perfect Alternative To The Stripped Shirt
Some guys wear stripped shirts. Yet unknowingly, they do not know stripped shirts are not suitable for them.
Why is this so?
In my grooming workshops for men, I teach my male participants to measure their body proportion.
Imagine if you have a longer torso and you insist on wearing a stripped shirt, you are just going to be the laughing stock. That stripped shirt which you are wearing will only elongate your upper body, making it appear even longer.
So if you are not suitable to wear stripped shirts, then you can consider a checked shirt as the perfect alternative.
#3: A Checked Shirt Expresses Your Individuality And Youthfulness
Yes, I shall repeat it here.
A checked shirt expresses your individuality and youthfulness. It sends across a message that you are a fashion forward-looking guy.
Now here's a quick tip which you will need to know before buying a checked shirt.
In general, wide checked designs give a more casual look; while small, uniformed checks project a neater style. For corporate wear, always choose small, uniformed checks as you want to be seen as polished and professional. Complete the look with work pants. If you intend to wear a tie, remember never to choose a checked tie. Instead, choose between a plain tie or polka-dotted tie. And always make sure the tie is a skinny one.
On dress-down Fridays or the weekends, you can be bolder and choose wider checked designs. Now you want to be seen as relaxed and fun-loving. And this time, pair it with lighter coloured chinos or denim jeans.
Of course, when choosing a checked shirt, you should always choose one that is your best colour =)