3 Common Job Interview Mistakes: Interview Skills Workshop For Pasir Ris Crest Secondary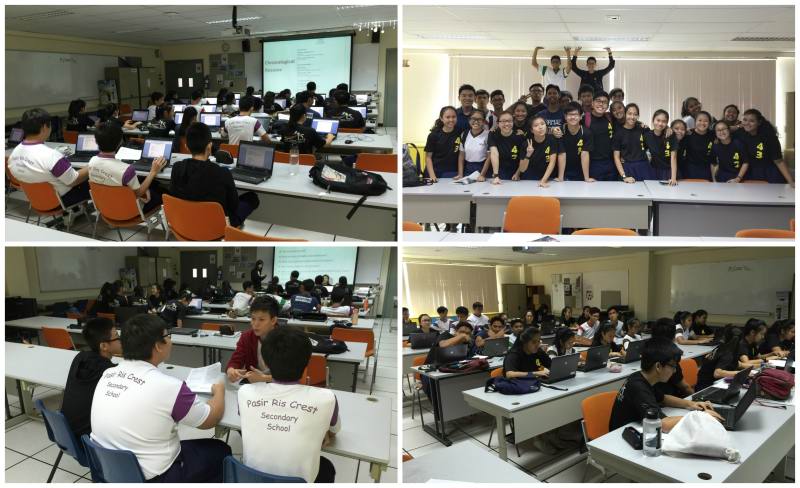 I made an interesting discovery in class today.
Many of the Secondary 5 graduating students from Pasir Ris Crest Secondary School were working part-time. While most were in service-related industries such as retail and F&B, there were others who were in data entry and IT. One was even a blogshop model!
 
This was indeed commendable because I too worked part-time when I was schooling back then.
I can immediately think of 5 benefits of working part-time while studying.
These include:
 
• Honing your time management skills – this is the best litmus test of one's ability to multi-task
 
• Helping you gain real world experience – there is a REAL world outside of the textbooks
 
• Building a network of contacts – I always believe your network equals your net worth
 
• Adding meat to your resume – compared to your peers who have zero work experience, you are one heads up against them
 
• Earning some income – I see this as the reward in exchange of the time. It is a fair trade.
 
As with all other interview skills workshop, the students really loved the mock interview bits which I incorporated into the class. After all, what is an interview skills workshop without actual hands-on right?
 
In fact, some of the students were so enthusiastic that they wanted to do another round of it…but alas we couldn't as we had other topics to cover such as resume writing.
 
Honestly, I feel at home each time I conduct an interview skills workshop. Partly because of my past experience as a HR manager for 3.5 years and partly because it forces me to think on my feet constantly, much of whether you will get hired depends on how you perform during your interview. 
 
What you say and how you say it are both equally important.
 
To ace your interview, there are 3 common job interview mistakes you need to avoid at all cost.
Mistake #1: You Are Too Focused On The Salary And Benefits
 
More haste, less speed. True indeed.
 
Do not be hasty when it comes to negotiating the salary and staff benefits. 
 
When I was a panel interviewer and came across such a candidate, the first impression that comes across is that the candidate is too presumptuous as he/she is taking for granted that we will offer him/her the job. 
 
What makes you so certain you are going to get the job? Do not forget there are other similarly qualified candidates vying for the same position.
 
What you should do is to wait for the HR director or manager to broach the subject. It will usually come towards the end if a job offer is made on the spot. Or if he asks "do you have any questions for us?"
 
And if you do trend on this touchy topic, always offer a salary range so that it sends a message that you are willing to be flexible and open to negotiation. 
Mistake #2: You Complain About Your Ex-Boss
 
If asked why you left your previous job, never ever bad mouth your ex-boss or employer.
Remember, what goes around comes around. Adopt a more reflective mood.
Steer clear of negative comments about that working experience, however horrible it may have been.
Instead of going on a tirade, learn how to impress the interviewers by showcasing what you are capable of contributing. Cleverly focus on the task at hand and that is to zero in on the positive aspects of the position you have applied for.
Say something along these lines if you wish to. I call it a two-parter.
Here's Part 1.
 
"Working at my previous company made me realise I thrive better in an environment that is more fast-paced and challenging."
 
OR
"Working at my previous company made me realise I thrive better in an environment that offers more opportunities such as job rotations amongst the different departments."
And here's Part 2.
 
"I applied for this job because I am seeking to build a career and establish myself in the industry."
Mistake #3: You Appear Too Enthusiastic
Always strike a balance between being authentic and eager to impress. It's like trying to impress the girl during the first date instead of attracting her to want to know you better.
In this context, impressing is short-term whereas attracting is for the long haul.
There is a thin line between complacency and competency. So know when to toe the line.
At the end of the day, just relax and be yourself. You will reach this almost zen stage if you practise, practise and practise using the list of commonly asked questions I have handed out. There is no easy way out. Though the process may be painstaking, the end result is one you will savor with pride – as you land your dream job.